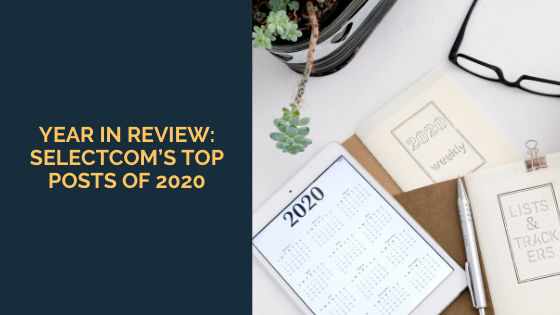 The year in review might be the last thing we want out of 2020. Dealing with lockdowns, major overhauls of our day-to-day life, and isolation from family and friends have been difficult to work through.
But the pandemic taught us all new things. From unaddressed customer needs, to new work-from-home strategies, we've learned plenty of skills that will take our businesses to new heights in the future.
All year, we've been updating our blog on a near-weekly basis, and it's now full of useful tools and helpful information, applicable in and out of lockdown.
Here are SelectCom's top 10 posts from 2020:
Expanding and Improving Your Business
The year opened with posts on growing and maintaining businesses effectively while keeping costs low. We touched on a number of topics throughout the year, but here are some of our best posts on business growth.
In this post, we used a real-life example showing just how much you can save by using a cloud phone system over a traditional one. While this is a rather short post, it won't take many words to convince you that cloud phone is the way to go.
Projected to make up 75% of the world's workforce in 2025, millennials are perhaps the most valuable demographic for your business to target. From marketing and branding, to earning and maintaining customer loyalty, this post is your silver bullet for reaching this key audience.
We can add better practices to our businesses all day long, but unless we patch up the holes in our business strategies, progress will be painfully slow. 
This post touches on the 4 critical areas that most businesses drop the ball on. Take these points to heart, and you'll pull ahead of the competition in no time!
Great business practice is critical, but without security, trust can't be built with your customers. Nobody wants to deal with a vulnerable, easily-hacked business. Fortunately, we offer top-notch security features built into our cloud phone system.
This post covers the 5 biggest improvements to your security that you'll get working with SelectCom.
Remote conferencing has been a tool used long before the COVID-19 pandemic. 
Of course, it's now become widespread and used in just about every social setting that doesn't allow in-person interaction. But in an office setting, it'll be used even after this pandemic ends. 
This post addresses a simple, yet important issue – which option is best in each circumstance? Read this informative post for an easy guide.
Thriving in the COVID-19 Pandemic
Once the COVID-19 pandemic forced business to switch to remote work, we transitioned to creating content that would help businesses navigate this difficult time. 
We hope that our posts not only helped you survive, but also gain some knowledge and skills that will help your business grow for years to come!
Video conferencing is now a staple of just about every person's life in some way. But even with such widespread use, there are many tricks and bits of etiquette that most people overlook. 
Whether you're looking to encourage cohesion within your team or improve your virtual presence, this post is for you!
Adjusting to COVID-19 measures was a difficult time for all of us, so we thought we'd share the best work-from-home-enhancing tools we have to offer.
These 3 tools can make any business a powerhouse even amidst such uncertain times. To find out what these tools are and how you can use them to maximum effect, check out the post.
What seemed like a dream at first quickly transitioned into a living nightmare for most of us working from home. As you're surely aware, it's not as easy as it sounds! 
Read this post and regain some of the stability you've lost working from home. Even if you've adjusted by now, perhaps a refresher will put the spring back in your step!
Professionalism is crucial to a proper work environment, but what happens when there is no work environment? 
Does professionalism fly out the window? Of course not! But finding that balance between sitting-in-your-bedroom relaxation and suit-and-tie sophistication can be difficult. 
But fear not! Read these tips and you'll be more professional than you were at the office!
For our holiday post, we thought we'd share some of the joys that come from working at home. With everything going on right now, it's easy to see the negatives, but working from home has a huge number of upsides.
We hope we were able to share a little bit of hope with you all in this post. Check it out if you haven't already.
A New Year
While things certainly didn't go as expected last year, we're still happy with what we were able to create in the past months. And we're even more excited for what this new year brings! Look forward to even better content in 2021!