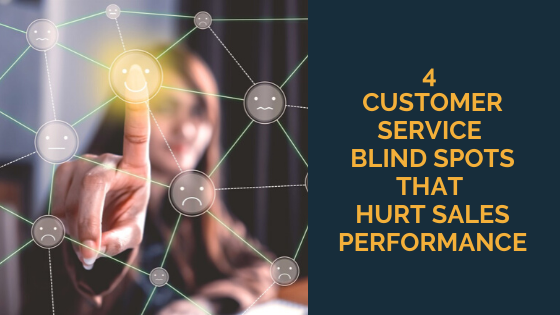 They're called blind spots because we can't see them. Unless your business is actively looking for them, you won't realize they're there. Customer service blind spots can significantly hurt your sales performance. 
Excellent customer service is vital for any successful business. This year is expected to see the shift in consumer priorities to better customer experience instead of price or product. A powerful motivation for improving customer service is that 55% of consumers would pay more for a better service experience.
Despite these insights, many businesses are falling short of consumer expectations. About half of Canadians surveyed switched brand loyalties due to disappointing customer experience.
How's your business doing in the customer experience department? Here are 4 blind spots that might be hurting your sales performance (and what you can do about it). 
1. Failure to think beyond the first impression.
Naturally, your business puts a lot of effort into making a good first impression. You want to get new customers in the door and ideally sell them your product. But the cost of acquiring a new customer can be anywhere from 5-25 times more expensive than retaining an existing one. 
Put yourself in your customer's shoes and walk through their entire sales journey with your business. What is their experience from the first interaction, through the purchase, and beyond? What opportunities do you have to offer an improved customer experience from beginning to end? Keep both in-person and online interactions in mind. 
2. Making your customers work for what they need. 
Part of thinking through the sales journey like one of your customers involves evaluating the speed and convenience of any interaction. How easy is it for your customer to find what they need or accomplish their goals? 
If a customer can't find what they're looking for, or if the process is too complicated, they'll get frustrated and go elsewhere. 
A few ways you might consider improving the customer experience include:
Offer several options to contact your business – website, phone call,

SMS Messaging

, social media, etc.

Ensure customer phone calls are answered and directed to the appropriate person quickly, rather than keeping callers on hold or forcing them through an endless maze of unhelpful extensions. (

11 Ways to Improve Customer Retention

tells you how your phone system can work for you in this regard.)

Develop your website in a way that's easy to navigate. If your website includes e-commerce, be sure that process is simple to use.
3. Insufficient communication channels
Communication with your customers is critical – before, during, and after a sale. Many businesses find themselves in one of two extremes:
Too many communication options, making it difficult to maintain all of them well, resulting in dissatisfied customers, or

Not enough options, limiting the methods or times for customers to connect with you.
Don't let customers slip through the cracks. Make sure you have the staff available to stay on top of every query on every channel in a timely way. (A cloud phone system is an advantage here with features like Auto-Attendant – a virtual assistant to answer and direct every call, as well as Answering Rules and Call Forwarding.) 
Don't alienate some customers by avoiding the communication forms they prefer. Ideally, your business should offer a combination of traditional and modern methods (such as email, phone, social media, live chat on your website, and SMS Messaging).
4. A lack of responsibility for problems
Every business is going to make a mistake every now and then. It happens. How you take responsibility for it can go a long way toward building a healthy rapport with your customers. Most customers are willing to purchase from a brand even after a problem if the brand extends a sincere apology. 
Respond to every customer complaint with a short, sincere apology every time. Then follow it up with a resolution. If there really is nothing you can do to solve the issue, refer the customer to someone who can help them, if possible. 
This particular blind spot is key when targeting millennials since authenticity is a determining factor in their brand loyalty. 
Are These Blind Spots Hurting Your Business Performance?
By being aware that blind spots exist and intentionally looking for them, your business will be ahead of many of your competitors. Regularly identify potential blind spots and act quickly to correct them. 
Focusing on improved customer experience is critical to the success of your business. For more information about how SelectCom's business communications solutions can help your business, contact us today.