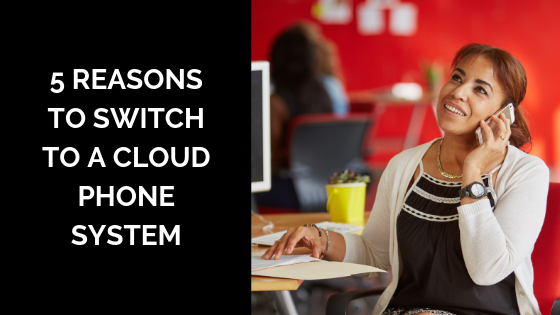 The benefits of cloud phone systems make choosing a business phone solution an easy one. Many businesses are switching from conventional, cumbersome, and costly phone systems to cloud-based solutions. 
Here are 5 reasons why it might be time for your business to make the switch.
1. Cost Savings & Value
The cost of a cloud phone system is typically less than a conventional system. It also adds value. A cloud-based solution offers:
Added or upgraded features without additional charges

The ability to add users or lines affordably

Minimal hardware requirements

Low maintenance and set-up fees
2. Mobility & Flexibility
Enabled for multiple devices, a cloud phone system allows workers to connect via their desk phone and computer, mobile phone, tablet, or laptop. Working remotely is easy with features like call forwarding. Communication between a network of offices in multiple locations is seamless.
3. Productivity
Mobile access and call handling features mean your workforce can do more with less. Streamlined communication and reduced overhead costs increase productivity.
4. Enterprise Features
Even small businesses can afford enterprise features with a cloud phone system. Included in every cloud phone system are the following standard features:
Call forwarding

Voicemail

Conferencing

Caller ID
At a low additional cost, advanced features are also available:
Video Conferencing

: enhance collaboration and help remote workforces come together quickly and effectively

Auto Attendant

: a virtual receptionist to answer and direct calls

Call Recording

: a tool for employee training, retaining critical information, and improving customer relationships

Voicemail-to-Email

: maximum efficiency, easy and efficient messaging, save time

Cloud Faxing

: save office space and costs, send and receive securely from anywhere
5. Easy & Simple Management
Separate machines and lines are not needed when faxes, calls, video calls, internet, and mobile data are consolidated within a single cloud system. Unified communications channels streamline your system making it simple and easy to manage. 
Without the need for complex equipment, maintenance is also easy. All you need is a good broadband internet connection and the right cloud phone system provider. 
Is It Time for Your Business to Make the Switch?
With the cost savings and value of a cloud phone system, it's easy to see why many businesses are switching. The ease and simplicity of managing the system add to the appeal. And the freedom and flexibility of unified communications across locations and devices increase productivity for a business of any size. 
If you're still wondering if a cloud phone system is right for your business, contact Selectcom to speak to a specialist. We can answer any questions and help you make the right decision.