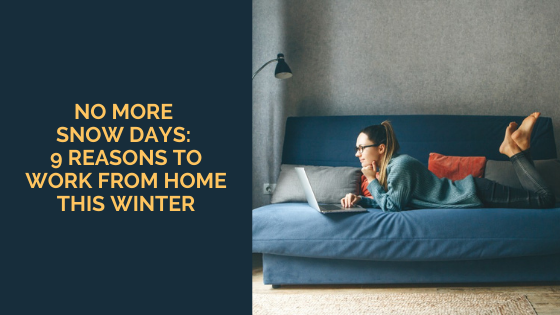 So you're stuck working from home. You imagined the benefits of working from home and at first, it sounded like a dream come true, but now the stresses of family and home responsibilities are piling on, and the line between work and leisure is blurring.
Not all hope is lost! SelectCom's cloud communications system is here to get you back on the right track. Turn work from home into everything you dreamed it would be and more with these life-saving features!
1. Save time and money on transport
Gone are the days of getting up early, rushing to pick up a coffee from the nearest drive-thru, and finally getting to work exhausted. No more traffic jams and fuel expenses. Now you can get through your entire workday without ever having to leave your house!
Eliminating the need for transport means that you get to enjoy a relaxed morning! Wake up later, spend time with your family, take some time to read – start your day off without all the extra stress.
2. Spend more time with family
A cloud phone system allows you to take office calls on your cell phone. Having full accessibility to your tools from home allows for a more flexible schedule throughout the day. If you've got kids staying at home with you for winter break, you can spend some quality time with them between calls, or when you're not busy with work.
Everyone wants more free time, but it's especially valuable this time of year. Take advantage of it.
3. Collaborate from the comfort of your couch
If your team at work is large and you need to update everyone on something, you'd be wasting all the free time you just got by calling or messaging each one individually.
Our group chat feature lets you keep in touch with everyone at once, cutting a 40-minute ordeal down to 5 minutes or less.
Group chat is a great tool for sending messages, images, documents, and other files to your colleagues, but sometimes a more sophisticated system is necessary – when you're dealing with multiple teams, for example.
Integration with Microsoft Teams allows you to manage multiple teams, share files, chat, create sub-categories for projects, and much more. 
And all from the comfort of your couch!
4. Show off your Christmas decorations
After working from home for a while, it's easy to miss the human connection that working at the office gave us – especially in the season where we'd usually be having office parties and other celebrations.
While you might not be able to see your coworkers in person just yet, a video conference is still a great way to get face-to-face with your teammates!
Whether it's for updates on an assignment or just to boost morale, video conferencing is a staple of the work-from-home experience.
Our video conferencing solution offers a special feature that's especially useful now: standing meeting rooms. 
You can send a different link out to each team that you work with, and they can save it for instant access to the room at any time. No more complicated string of emails trying to get everyone into the meeting. Just send the link once and everyone's good to go!
You can still get a chance to show off your decorations this year! Turns out all that work wasn't for nothing after all.
5. Read through voicemail with your morning coffee
Going through voicemail messages from clients is a slow and tedious part of office duties, but what if you could cut it down to a fraction of its usual time?
You can get up in the morning and knock it right off your schedule with your breakfast morning coffee thanks to voicemail transcription!
To save you time, voicemail transcription turns all incoming voicemail into a text-based email that you can scan in seconds. 
No more listening to painfully long and wordy messages that waste your valuable time. Just scan for important info and respond via voicemail or email! 
Then, enjoy your coffee in peace.
6. Take a load off and let a robot do your work
Answering and directing calls can be mind-numbing. Few people truly enjoy it, and sending calls from one line to another feels like watching paint dry. Surely there's a better use for your valuable time.
Fortunately, your days of redirecting calls can be over! 
Our Auto-Attendant feature does it for you. Just like a human receptionist, it greets customers, briefly introduces the business, and directs callers to their desired extension.
If you're hoping for a special holiday cheer-filled greeting for the season, you'll be  pleased to know you can update Auto-Attendant's greeting at any time, from any device!
Use your time on important tasks – you'll never have to redirect a new call again!
7. Manage your system from the dinner table
You're working from home and enjoying your time when suddenly, you come across an issue with the way the system is set up. Maybe you notice the voicemail greeting that states your work hours is incorrect, or you realize calls are being directed to the wrong extension.
Typically in a regular office, you'd need to hire an IT specialist to make your desired changes, but not with a cloud phone system!
If you have administrator permissions, you can access and edit the system from any device, from cell phone to desktop.
You can save hours of downtime, and being able to customize at any time from anywhere means you never have to sacrifice quality for the sake of convenience!
8. Grow your business from your bed
Expanding a business usually takes a lot of work – new hires need to be trained and added to the system, and as your business branches out and adds new departments, you'll need to upgrade your infrastructure.
Fortunately, technology can speed that process along – without losing quality and even improving it!
While training will always be a necessity, call recordings of your employees' dealings with clients can be a priceless tool in speeding up the learning process. 
Trainees can go over the recordings of seasoned employees and learn from their expertise and experience. They can also go over their own recordings and define what went well, what went poorly, and how they can improve. 
The entire training process can be completed over a video or audio conference call.
And when it comes to infrastructure, the beauty of a cloud phone system is that it's not reliant on limited servers inside your building. 
As a cloud-based system, there's no limit to how many branches, locations, manages, or employees can be a part of one system. You can add new branches and locations with just a few clicks or taps, and adding new hires is just as easy.
Wake up in the middle of the night realizing that you forgot to add the new trainee to the system? You can quickly add them while lying in your bed, without even getting up!
9. Instantly access info without digging through piles of corporate holiday greetings
It's the holiday season, so let's be real: no customer wants to be on a call any longer than is absolutely necessary – especially at this time of year.
For many calls, you'll need to access the customer's information in order to get them the help they need. This might take a while, especially with all the extra business and new customers filling the database this season.
With panicking over gifts for your relatives and planning your much needed time off work, adding the stress of scouring the system for an angry customer's info on top of it all is an unwelcome scenario. 
But what if your computer instantly pulled up every bit of a customer's info the moment they called? Imagine the time that would save for both parties!
Surprise! Selectcom's cloud phone has that too, thanks to CRM integration. 
Your phone system integrates with your CRM system and immediately gives you the info of any caller that's already in your database. 
No more grumpy customers complaining about your slow service – use a solution that makes both parties much happier!
Enjoy a smooth-running, comfortable work-from-home experience this holiday season
This all sounds pretty appealing, but it's not a pipe dream. You can make this a reality for your 2020 holiday season with just one subscription. 
Contact SelectCom today to learn more about our cloud phone system – and end off this not-so-great-year in the best way possible!