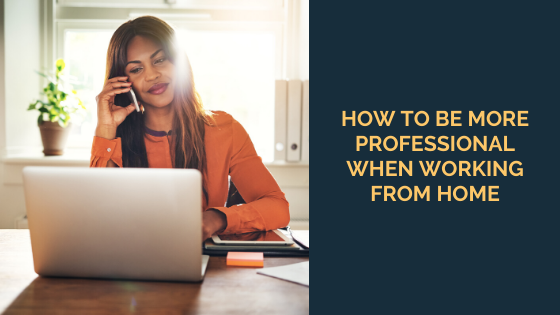 Home is where you let your hair down, so to speak. The freedom to wear what you want, say what you want, and listen to what you want makes it a place of comfort. A unique element of relaxation exists when you work from home even if you're productive and completely focused on the job.
Convenience defines working from home to a large degree, but that ease can leave something to be desired where professionalism is concerned. Paying attention to a few simple things can ensure your business interactions remain consistent with what happens at the office.  
Here's some advice on how to be more professional when working from home. 
3 Ways to Look More Professional When Working From Home
Even if no one sees you, attention to your appearance can impact your professionalism. These 3 small efforts will make a big difference in how you feel and present yourself.
1. Get Dressed for Work
Even if no one will see you at home, getting dressed for work affects you in positive ways. It helps to create that work-life balance. Just as a daily commute to the office acts as a transition from home life to work life, a morning routine of getting dressed for work communicates the same message to your brain and helps you to focus. 
A professional appearance while working from home will save you the embarrassment of being caught in your pajamas by an unexpected video conference. 
2. Stage a Backdrop for Video Calls
You don't need to buy a dedicated backdrop for video calls, but you do need to pay attention to what people will see on your screen. Sit in front of your camera and look carefully at the view:
Are there any props behind you that look like they're growing on top of your head (such as a standing lamp or a plant)?

Does the area behind and around you look tidy?

Does the lighting darken your face and make you appear as a silhouette?
3. Choose Props Carefully
Because you're at home, you might not think twice about things that others would notice on a video call.. Pay attention to things like the words on your favorite coffee mug or sentimental pictures hanging on your wall. If you'd be uncomfortable having them at the office, it's best to keep them out of your screen.
Clear clutter that's within view of the screen, such as children's toys, smoking paraphernalia, personal care products, household cleaning items, or any paperwork pertaining to other clients.
3 Tips to Sound More Professional When Working From Home
It's possible to speak with utmost professionalism but still jeopardize your credibility on phone calls. Practice these tips to sound more professional. 
1. Smile when you talk on the phone.
Did you know a smile is audible? When you smile – even slightly – as you talk, it comes through to the listener. There's a perceptible difference in your tone that's more appealing than when you keep a straight face. 
The effort to smile even though no one can see it can make a difference in what you say and how you say it. It might be subconscious, but it's effective nonetheless. 
2. Minimize background noise.
You might be able to ignore the sound of your dishwasher or clothes dryer because it's normal to you. But for the people on the other end of your call, it could be distracting. Time your calls (and your loud household appliances) with noise in mind.
Is your house on a noisy street? Are there barking dogs and screeching birds outside your home office? Keep your window closed for business calls. 
A headset with a good quality noise-cancelling microphone will greatly improve the professionalism of your calls. Consider noise-cancelling software like Krisp, which works in tandem with your headset and softphone. 
3. Master the virtual handshake.
When you're working at the office, a handshake is an automatic conversation starter. When you're working from home, those introductory pleasantries can easily be overlooked. 
Begin phone conversations with some comments about things that are of interest to the other person. Inquire about their recent vacation or their family, for example.
The Best Work-From-Home Phone Solution
The right phone system can improve how you and your business are presented when you're working from home. A cloud phone system presents you (and your business) as a company with enterprise-level professionalism.
Some features of a cloud phone system that make your business sound more professional include:
Automated Call Answering & Transfers

: Even if you're the sole employee in your business, using a virtual receptionist to answer the call (and forward it to another number, if necessary) gives a "large staff" impression. The Auto Attendant can be programmed to answer with a custom message of your choosing.

Toll Free Numbers

: A toll-free number gives a professional impression and benefits callers for whom the call is long distance.

Call-Back: When you're on another call, you can give callers the option to receive a call-back instead of waiting on hold.
Enjoy the freedom and flexibility of working from home without forfeiting professionalism. For more about the features of our affordable cloud phone system, contact SelectCom today.