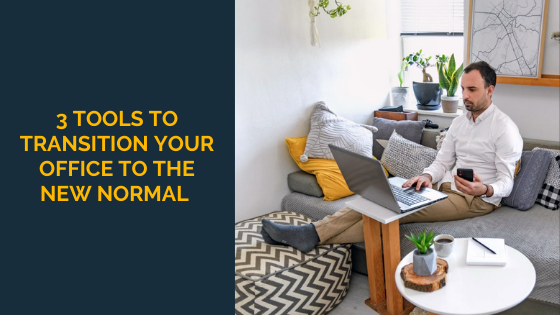 With the rise of COVID-19, many businesses have been forced to transition their offices online, and it seems this will be the new normal. Recent research shows that between one third to half of all workers are working from home currently. And 67% of companies expect work from home to be long-lasting or permanent.
Fortunately, an overwhelming majority of remote workers (98%) said they want to keep working out of the office.
If your business is moving online, using the best tools will maximize the success of this transition.The following 3 tools can make your transition as smooth as possible. 
Tool #1: Cloud Phone
Business phone systems have been around for a long time, allowing multiple office workers to answer multiple incoming calls at once.
These systems require a physical wired connection for each phone in order to work. IT specialists must be hired to set up the system, and routine check-ups must be done to ensure the system is in good working order. 
This would be fine – though costly – for an office where all workers are in the building, but seeing as so much work is moving online, this is simply not an option for remote work. 
Working at home means you don't have access to your usual office phone for work calls. You need a remote system that can adapt to your needs at the current moment. A cloud phone system is a simple solution to this dilemma!
Cloud Phone: What is it?
A cloud phone system, also known as a Voice Over Internet Protocol (VoIP) phone system, is an internet-based service that includes a variety of features besides a simple phone line. 
In the case of SelectCom's cloud phone solution, these features include:
Auto Attendant

– a virtual assistant that automatically answers and directs calls

Presence

– shows at a glance who is available to pick up a call 

Voicemail Transcription

– turns voicemail messages into email or text for fast reading – no more listening to lengthy messages!

Audio & Video Conferencing –

see below for details

Mobile Integration

– use your cell phone as a replacement for your office phone

Chat & SMS Messaging –

for even easier communication through your cell phone

User & Manager Portals

– remotely access your system from anywhere, and receive analytics and call recordings to help you monitor and adjust your own services. 
Since it's internet-based, there's no need to worry about setting up a complicated system of wires and parts. The service provider deals with everything on their end.
5 Ways Cloud Phone Can Help You Seamlessly Transition to Remote Work
1. Ease of Use
One of the best things about cloud phone systems is how easy they are to use. There's no need to hire an IT service to make any changes because everything can be done with ease. 
Need to connect a new hire's phone to the system? Anyone with administrator permissions can do it with a few taps on their screen!
In the long run, this ease of use can save a lot of money that would be otherwise spent on repairs and modifications.
2. Mobile Integration
SelectCom's cloud phone system allows you to use a mobile phone in place of your office phone. 
This may raise concerns of giving out your personal cell number to clients, but all calls that come through the system won't display your number. The system treats your cell phone as your office phone.
The ability to use your cell phone for work calls is absolutely necessary in order to work from home effectively. 
3. CRM Integration
A CRM (customer relationship management) system is an incredible tool, and cloud phone CRM integration makes it so much better.
If you receive a call from someone in your CRM, you'll immediately have their contact page come up on your computer screen. This creates a smooth call by saving you the hassle of manually searching through your database to find their info.
The same thing works in reverse with click-to-call functionality. If you're on a contact's page, simply click on their phone number and have your phone dial it automatically.
Additionally, all your calls with each contact will be automatically logged for future reference. A huge time-saver!
4. Scalability
A digital service like cloud phone is the most scalable type of system. There's no hardware installation necessary when introducing new hires or adding a new branch to your business. All you need is a few taps or clicks on your device and it's done!
5. Affordability 
When using a softphone application, there's no need to purchase phones or other apparatus for each individual worker. A cell phone is all that's necessary for additional users, saving you hundreds in hardware costs! 
You enjoy even more savings with unlimited long distance calling and no maintenance or service fees.
With all the cost savings and access to ultra-convenient integrations and features, it's easy to see why a cloud phone system can be a powerful tool for your transition into the digital world.
Tool #2: Video Conferencing
If everyone was in the office and something needed to be discussed, a meeting would be called to address the task or issue at hand. But since most people are now working from home, an alternative is necessary. 
Regular phone calls won't cut it as a replacement, so video conferencing is the best solution.
Here are some of the reasons video conferencing can be beneficial in terms of convenience,  productivity, team unity, and more!
How Video Conferencing Can Boost Your Business
Since the COVID-19 outbreak, video calling services have taken a prominent role in our daily lives, from classrooms to conferences to casual chats.
These services have been useful in connecting us with our family and friends in recent months, and they can prove just as beneficial in the workplace!
1. Strengthen Your Team Via Connections
Video conferencing has made it much easier to maintain relationships and connections, even amidst all the lockdowns and restrictions.
Working from home can feel isolating, so seeing a friendly face during the workday can make a lot of difference in mood – which translates into better productivity! Video conferencing can help co-workers build connections with one another, and consequently, keep morale up. 
2. Quick & Simple to Use
In a business where everyone is working from home, spontaneous issues can arise that need tending to. A meeting may be needed, requiring everyone on the team present.
In a physical office, some workers may be out of the building or otherwise unavailable, but not so for digital work! 
If something must be dealt with immediately, a video meeting can be assembled within minutes with no hassle at all. With one easy-to-use program, there's no need to worry about long setup; anyone can instantly hop into the call!
3. Convenient tools
The additional tools that come with SelectCom's video conferencing solution help make virtual meetings as productive as possible. With features like screen sharing, you can easily convey info to your team with graphics, slides, webpages, or anything you want!
For those who haven't gotten enough sleep last night and are having trouble remembering what happened in the meeting, call recording is a lifesaver. Easily play back the entirety of the meeting in a downloadable video file. You can skim over and brush up on anything you may have missed, ensuring that everything is taken care of.
Video conferencing is an invaluable tool for any virtual office with its clear benefits and potential for maintaining the personal connections that keep work enjoyable and effective.
Tool #3: Microsoft Teams
Microsoft Teams is an incredibly useful tool for an online office. It's a hub for sharing files, planning events and deadlines, and collaborating on projects. 
Create separate channels for different departments and teams so that everything is organized in its proper place and everyone can keep on top of assignments.
Now SelectCom has integrated with Microsoft Teams, combining all the benefits of cloud phone, video conferencing and more with the collaborative hub of Microsoft Teams. Together, these tools might be all you need to get your new online office up and running!
SelectCom clients even have access to additional features that regular Teams users don't! 
Teams' features (integrated with SelectCom's solution) include:
Contact center

CRM integration

Device management

Call recording

Newly released Artificial Intelligence voice applications

Faxing

Paging

Failover to other devices in the case of a Microsoft interruption
To integrate Teams with your SelectCom applications, all you need are Microsoft Phone System Add-On Licenses and an Office 365 subscription with Microsoft Teams. 
You can use your mobile device for Teams as well, so location has no impact on function; just like with SelectCom's products.
Ensure a Smooth Transition to At-Home Work
Cloud phone, video conferencing, and Microsoft Teams – these 3 tools are the key to transitioning to a work-from-home system – and continuing to grow from there!
A cloud phone system gives you and your team the freedom to answer and make calls, maintain customer relationships, and grow your business, all from home.
The convenience of video conferencing will bring your team closer together, boost decision-making power, and let you inform your team of any and all important updates!
And Microsoft Teams with its SelectCom integration will give your team a virtual base of operations to work and organize within, maximizing productivity.
The new normal is a state most businesses now must adapt to. Boldly take the first step into this new future and contact SelectCom to set up your team with the tools you need.