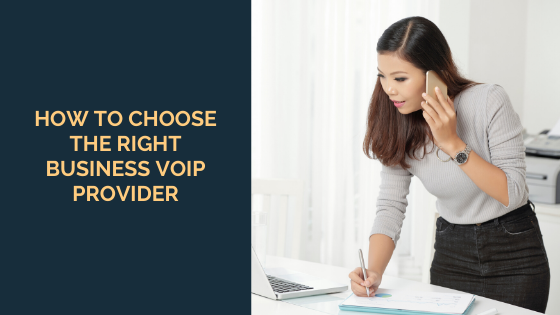 The affordability, flexibility, and enhanced functionality of a VoIP phone system make it an easy choice for businesses. But deciding to switch to a VoIP system is the first step. Next, you need to choose the right business VoIP provider. 
7 Key Factors to Consider when Choosing Business VoIP
Not all VoIP providers are equal. 
As you compare various providers, there are several factors to consider. Do your research and evaluate each provider based on the following criteria. This will equip you to make the best decision for your business. 
1. Cost
Naturally, cost is a huge determining factor in your VoIP provider decision-making. Look at the cost, but not on its own. Look at the whole package. Consider the value more than dollars. 
Before you can determine the value of a VoIP plan, evaluate the needs of your business. 
What features and functionality are important for your company? 

How many users will you have?

What are your call volumes?
With that information, you can more accurately compare the cost of different VoIP plans. Additionally, find out from each provider:
What are the upfront costs to get set up and running?

Are charges per

user

or per

call

?

Will you have to pay for capacities you don't need?

Will you have the ability to upgrade your capacity as needed?

Can seasonal fluctuations be accommodated?

What are the recurring maintenance costs?
2. Hosted vs. On-Premise
There are 2 main types of VoIP service – hosted and on-premise. 
Hosted VoIP
The advantages of hosted VoIP include:
Lower upfront equipment and set-up costs

Minimum hardware required on site

Training is included

No maintenance

No long-distance charges

Lower electricity usage

Upgrades & some new features are included
On-Premise VoIP
The main advantage of on-premise VoIP is lower operational costs over time. However, this option is usually best for larger businesses because of the higher initial costs. 
Higher capital costs

Maintenance contracts

Long-distance charges

Higher electricity usage
The best VoIP providers manage the equipment, update your installations, and make routine updates to your system.
3. Security
The global average cost of a data breach is $3.92 million. You don't want to deal with that!
Because VoIP service is connected to the internet, security is crucial. This is particularly important for businesses in highly regulated industries like healthcare or finance. 
Ask providers where the responsibility lies for stored data. They should implement the latest cybersecurity practices for data, but there should also be security measures in place for their physical locations.
Things you want in a VoIP service provider include:
End-to-end encryption

Encryption for data at rest, if needed

Advanced authentication methods (like multi-factor or access control)
4. Reliability
A security breach isn't the only costly risk. Downtime of your VoIP service can lead to lost revenue, recovery costs, and lost productivity. There are also intangible costs to consider like your reputation and customer satisfaction.
What is the VoIP provider's uptime track record? You want uninterrupted service. A reputable provider will have built-in redundancy. This ensures call continuity in the event of a temporary connectivity issue. 
Additionally, there should be a backup and recovery plan in place to minimize interruption while protecting your data. 
5. Unified Communications
Some VoIP providers offer services beyond your business phone. The ability to combine some of your services unifies your communications. It's simpler and can save you money. 
Look for a VoIP provider that can also offer some (or all) of the following:
Conference calling

Chat

Fax

Internet 

Text messaging

Video calls

Voicemail
6. Support
As you compare VoIP providers, take the time to interact with their customer support. Are you satisfied with their communications channels (phone, email, live chat)? What was their response time? How would you rate your customer experience?
Premium support is worth any extra expense if you have custom integrations. 
7. Features & Functionality
There are many features available with a VoIP system. Some are standard with every plan. Others are optional. Not every feature will be necessary for your business. 
Understand the available features and determine which ones are important to you. Some features available with VoIP include:
Answering rules

Auto Attendant (virtual receptionist)

Caller ID

Call blocking

Call forwarding

Call queuing

Simultaneous ring

Custom greetings

Do not disturb

Extensions

Hands-free alternatives

Hold options

Multiple lines

Music on hold

Transfer capabilities

Voicemail

Voicemail-to-email

Toll-free calling

911 support
Many features make call management easier for your business. Call queuing, for example, is good for businesses with a high call volume coming into a certain set of phone numbers (like a service desk). Other features  – like Call Forwarding and Answering Rules – intelligently and automatically distribute calls between different extensions based on custom criteria.
Choose the Right Business VoIP Provider for You
There's a lot to consider when choosing the right business VoIP provider for you. Bookmark this page to use as a guide when you compare providers. 
To find out if SelectCom is the best VoIP service for your business, contact us today. We're happy to answer any questions and help you make the right choice for you.