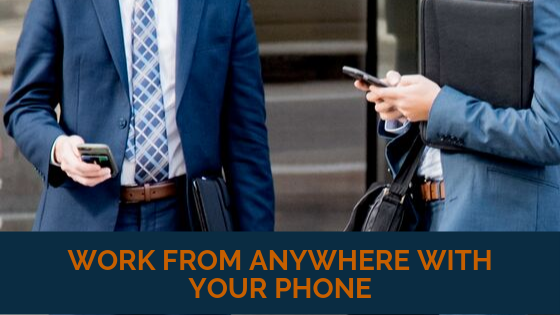 Working from home has never been easier! Want to work outside? No problem! Cottage in Florida in the winter months? Easy! Business trip? Stay connected! OR even forward calls to your cell at the click of a mouse!
Your Mobile Phone: An Extension of Your Business Phone
A big reason many people don't like to use their mobile phones for work is because they want to maintain control. You want to be in charge of when you're available for work outside the office, and you want to keep your personal life separate from your work life. You don't want to call a customer from your mobile phone because it will give them your personal number. 
There's a level of professionalism that can be hard to maintain away from your desk. When you make business calls, you want the caller ID to show your business name and number – not your personal information. There's your business voicemail to consider, too. 
There is a solution! SelectCom's unified business communications system offers a softphone application that turns your smartphone into a business extension. It's quickly becoming the preferred choice for companies around the world.
Benefits of the Mobile App
Enabling our softphone app empowers your entire staff to work from anywhere. There are many benefits of allowing employees to work remotely. We outlined 5 in a previous post:
Save time & reduce stress.
Diversify your workforce.
Minimize your costs.
Improve productivity.
Reduce employee turnover.
The features of the softphone app are extensions of the same enterprise-class features you use on your business phone. With these features, you can increase availability, flexibility, and productivity. 
Your personal number stays private. Callers see only your business phone number.
Connect over WiFi, 4G or LTE to minimize costs when out of the office.
Send and receive calls just like you're at your desk.
Chat or text message with your staff, co-workers, or clients.
See full presence of your co-workers to stay aware of their availability.
Check voicemail messages or voicemail transcriptions.
Manage answering rules.
Record greetings.
Make extension-to-extension calls.
Access advanced call control features, such as 3-way calling, transfer, hold, and more.
Chat & SMS for Business Communications
Have you ever thought it would be more convenient to be able to send a text message for a work conversation? You're swamped with emails, and sometimes a phone conversation doesn't seem the most efficient option. 
Text messaging is the communication method of choice in many cases because of its accessibility and convenience. It's quick to send a short message. Conversations are to-the-point and collaboration can happen faster. 
Our robust softphone app allows users to chat with coworkers on the system instantly. Messages can be sent through SMS-enabled numbers.
Freedom to Work With Mobile
Using your mobile phone as an extension of your business phone will give you valuable freedom to work from anywhere. Optimize your business communications:
Provide exceptional customer service and increase productivity on the go!
Save costs by using WiFi or mobile data connections while operating more efficiently and effectively.
Take advantage of the convenience of Chat & SMS Messaging.
Get more work done – anywhere, anytime!
For more information about SelectCom's softphone app or other business phone solutions, contact us today!