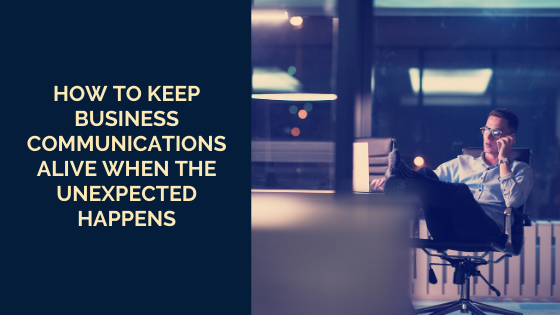 Power failure and internet outages happen. Sometimes it's a simple technical issue, other times it's a catastrophic disaster – like fire, flood, or severe storms. In situations like these, keeping your business running is nearly impossible without a working communications system. 
Your phone system is a key factor in your ability to maintain business and recover from disasters. A hosted phone system is the best choice to keep business communications alive when the unexpected happens – even during power and internet outages. 
No More Downtime
No matter what might happen in and around your office, your business communications remain safe and operational because a hosted phone system is cloud-based. 
This level of redundancy is not a benefit provided by a traditional premises-based system. Instead, in the event of a power outage, an analog service requires dialing a code to activate the call forwarding feature. The problem is that without power, there is no dial tone, making the "fix" impossible to implement. 
With a hosted system, multiple data centers offer built-in call failover for extra resilience in the event of a network or power outage. Calls are automatically routed around problem areas. You can also set your system in advance to forward calls to other landlines or mobile devices in the event of an unexpected outage. This minimizes (and often eliminates) call disruption entirely. 
Business As Usual From Anywhere
If your office becomes inaccessible, you can quickly redirect calls using the Management Portal. All you need is a computer with internet access. Forward calls to home phones or mobile devices. You'll have your staff back up and running in no time. With your communications system in operation, it's much easier to put the full recovery process in motion. 
Relocating your office or having to work remotely is simple with a hosted phone system. Simply plug your desk phone into any active internet port. It's literally "plug-and-play." 
A hosted phone system includes many features to accommodate mobile work. Here are 3 examples:
Find Me Follow Me enables you to make and receive business calls from any device at any location with an internet connection. Callers dial one number and reach you wherever you are on any of your devices.
Simultaneous Ring allows you to set up a sequence of rings. The system automatically redirects a call to the next phone in the sequence if it isn't answered at the first phone. This increases availability for callers even in chaotic situations when everyone is busy or working from various locations.  
Customized Voicemail makes it easy to change your company's (and individual user's) voicemail messages. Alerting callers to your current situation and any impact it may have on their own business helps to manage expectations and maintain better customer service. 
Minimize Costs
Maintaining phone service and disaster recovery are difficult and expensive with a premises-based phone system. If hardware is damaged, the costs of replacement, installation, and setup are significant. There's also the loss of revenue that occurs due to the business calls you miss while the system is down. 
A hosted phone system is already set up to prevent outages, so you won't have these extra and unexpected expenses. Even in a case of unpredicted spikes in call volume, adding phone lines is quick, simple and affordable. 
(Read Compare the Costs of a Premises-Based Phone System & a Hosted Phone System for more information about how a hosted phone system can save you money.)
Be Prepared
Prepare your business for the unexpected. A hosted phone system ensures your business can be productive and satisfy your customers even in the event of a disaster. Resilience through supporting infrastructure, recovery through valuable features, and contingency procedures work together to create a business communications solution to keep your business going no matter what.
Keep business communications alive when the unexpected happens. To prepare your business communications for any situation with a hosted phone system, contact SelectCom today.