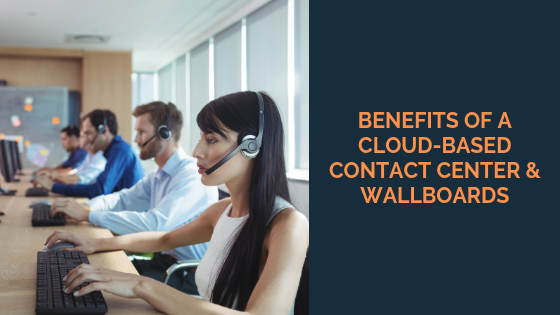 A cloud-based contact center offers many benefits, the most important one being customer satisfaction. A modern alternative to on-premise contact centers, a cloud-based system is feature-rich, easy to use, and ultimately improves customer experience.  
Expand Your Agent Base
Remove limitations on staffing. Look beyond the local commuting distance. A cloud-based contact center widens your prospective employee pool. You can hire agents from all over the world, enabling you to choose the best people for the job. The hot-desk support feature allows multiple agents on different shifts to share a single physical phone. 
Supervisor Control & Flexibility
Supervisors have better control of the contact center by viewing detailed calling reports in the Supervisor Dashboard or listening to active conversations. Training new agents or assisting staff is more effective with the cloud-based system. Supervisors can whisper to any of the agents, or barge in on the call altogether. 
Quick access to the Portal allows you to make changes at any time. Modify your messaging, prompts, and hold music to deliver better results. 
Support Multiple Communication Channels
Customer engagement changes along with technology. The cloud-based contact center has SMS integration, allowing agents to interact with customers through the Chat-to-SMS feature. This ability to reach your customers through multiple channels increases the level of customer service your contact center can provide.  
Improve Efficiency & Productivity
The Contact Center Display and Wallboard give your agents a live picture of what's going on in your contact center. The Wallboard can be customized with an easy-to-use drag-and-drop editor to show the statistics and metrics you want. Visual graphs are easy-to-read and can optimize agent productivity, reduce wait times, and increase customer satisfaction.
Customizing Wallboards
Wallboards can be set up as a display to share with your entire contact center or as a personal display for individuals. The design and content of your wallboard can be customized and changed at any time by privileged users. Data is updated in real time. 
Before choosing what to display on your wallboards, remember that the information on the screen will help nothing unless your agents are actually looking at it. What will motivate them to use the wallboard? Is it simply a tool to get your team to take more calls? Or could it also be used to communicate with and motivate your staff?
Improve Morale & Boost Team Spirit
Use your contact center wallboards to communicate with your agents beyond basic analytics. The display can be a more complete and engaging view of the day-to-day business.
Key performance indicators are helpful, but you'll get greater engagement by including some attention-grabbing information, too. Traditional statistics to monitor include:
average wait times

number of callers on hold

maximum wait time

average abandonment call rate

call queues
These are still useful. To change things up a bit, you could show birthdays and celebrations, general company updates, or specials in the employee cafeteria. 
The ease of customizing wallboards allows you to change the information they show throughout the day. At the start of business hours, you might want to focus on calls waiting and service levels. As the day progresses, it might be helpful to switch to internal communications. Near the end of the workday, displaying traffic updates would be helpful for agents planning their commute home. 
Increase Your Call Center Performance
Contact centers operating on old technology and software struggle to keep up with the way customers and businesses communicate today. By switching to a cloud-based call center, you'll enable your agents to engage customers more effectively. Wallboards will motivate your team and increase productivity. 
To learn more about a cloud-based contact center, contact SelectCom today.