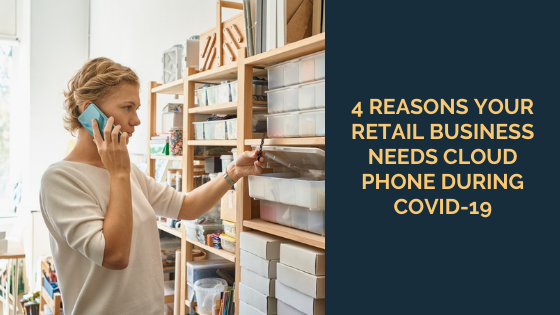 Retailers today are working harder than ever to keep up with the ever-increasing changes in today's economy.  Allowing your business to stagnate, even for a brief time, can cause you to be left in the dust. But how can you stay relevant cost-effectively?
Upgrades in technology are one of the best ways a business can improve their customer experience. That's why your retail business needs cloud phone during COVID-19. 
You want to grow a powerful and efficient workforce and save money at the same time. A cloud phone system can make that happen.  It makes team collaboration, accessibility, and management a breeze, and it's cost-effective. These are all key to succeeding as a retail business during COVID-19.
From updating your answering service to displaying customer trend analytics, a good cloud phone system can be the single solution that takes your business to the next level. 
#1: Reduce Operating Expenses
A big advantage of using a cloud phone system is the low overhead cost. You'll pay a subscription fee, but that's about it. You won't have to install a costly phone system in your building, and you won't have to pay for maintenance since it's all cloud-based.
The only hardware you need is an office phone. Cell phones can even be used in their place for added users!
Cloud Phone is an All-in-One Solution
Cost-effectiveness is crucial. That's why our cloud phone solution offers everything you'll need in the communications and collaboration department for one price.
Some of the services we offer include:
voice calls

virtual assistant

multi-location 

analytics

CRM integration 

and many more features
These features will greatly improve your team's ability to work together effectively and can improve your customer experience by leaps and bounds!
#2: Improve Your Customer Service
As a retailer, your primary concern is customer satisfaction. Customer satisfaction doesn't just come from low prices or clean aisles. It comes from the overall experience of the customer, in-store as well as online and on the phone. 
During COVID-19, retail customers are likely to call more frequently than usual to avoid coming in-store, so now's a better time than any to improve the quality of your over-the-phone service.
You can have top-quality service in-store, but if the customer's experience on the phone is poor, it'll hurt your business. That's where cloud phone comes in. With a wide variety of features to improve your over-the-phone service, your customer service will be better than ever.
SMS messaging and curbside pickup
Curbside Pickup is a popular retail service right now with COVID-19, since it's the most contact-free way to purchase from a retailer.
SelectCom's SMS messaging feature makes it easy to set up a curbside pickup system for your clients to enjoy. You can use it to alert clients when their order is ready, notify them of any changes, answer questions, and more! 
High-quality shopping experience –  even after hours
Retail stores typically aren't open 24/7, but that doesn't mean customers can't interact with your business after the doors are closed.
Auto-Attendant acts like a virtual receptionist, greeting customers with a custom message and directing them to where they want to go. 
It can be active round the clock, so any customers who call will be greeted with your message despite the time of day, and Auto-Attendant can inform the caller of opening and closing times if they call after hours.
As a virtual receptionist, the system can handle multiple calls simultaneously, saving your human workers a lot of unnecessary stress throughout the day.
Speaking of leaving messages, check out this post on Managing Voicemail From Work & Home!
Provide always-on communication anywhere
Now that remote work is more widespread, it's key for your team to be able to work from anywhere. Thanks to cell phone integration, they'll be free to make and take calls wherever they please, with no negative effects on customer service quality.
With cell phone integration, any smartphone with calling capabilities can replace a clunky office phone – while still maintaining all functionality and even adding more, like SMS messaging with clients!
Connect customers to the right store associate
Thanks to Auto-Attendant and the customizability of SelectCom's phone system, customers can choose where their call is directed to receive the most effective help.
There are also more calling rules that can be implemented. For example, Simultaneous Ring redirects incoming calls in the order you set up. For example, an incoming call first goes to phone 1, and if phone 1 doesn't pick up, phone 2 will pick up, and so on. This system ensures all incoming calls will be answered.
Boost customer loyalty
You can boost customer value and acquire new customers by adding a competitive edge to your CRM. Give the customers exactly what they want and in the way they prefer it.
SelectCom offers CRM integration, which syncs your phone and CRM database. When you get a call from an existing customer, their page will immediately come up on your computer screen. This makes customer service calls run more smoothly by saving the time spent in searching for contact info.
With access to call, email, purchase history and more, creating a super-personalized experience for your customers is a breeze.
Offer a personalized customer experience
With Real-Time Analytics and CRM Integration, you can clearly identify trends and patterns from your customers, as well as individual customer history. This information allows you to personalize each customer's experience individually. A personalized experience gives your business an edge over your competition.
#3: Use Versatile Management Tools
In today's world, adaptability is a must for any business to succeed. 
A cloud phone system gives your business the tools to manage issues with effectiveness and ease!
Manage everything from one place
Since all these features come as a part of one program, you'll use our interface as a hub to manage each tool and each user from the same place. No need to hop between programs when everything is at your fingertips.
#4: Scale Your Business With Ease
When thinking about scaling a business, your first thought may be hiring more people. While this can help and might be necessary, it also costs a significant amount of money. 
Before taking that step, consider an alternative option. Boost efficiency by using the same number of resources but utilizing them more effectively. The tools included in our cloud phone system can streamline the way you use your existing resources and staff, allowing you to speed things up without spending extra money.
Set up quickly and expand easily
Due to the nature of a cloud phone system being cloud-hosted, setup is incredibly simple and fast. You just need a compatible phone and a high-speed internet connection. 
Even if you want to add another device, simply log in (with a smartphone), or plug in (with an office phone).
Thanks to this ease of use, your phone system can scale alongside your business – without costing you an arm and a leg for a system upgrade.
Stay connected across multiple locations
Being unrestricted by geographical location is yet another joy of using a cloud-based system. As your business grows, you'll be adding more brick-and-mortar locations. You can use the exact same system in your new location without hassle! 
There's no limit to how many physical stores can share one system, and your stores will already be connected! Locations across the city, province, or even across the country can collaborate and communicate with ease.
If one location is understaffed, incoming calls can be redirected to a less busy location, ensuring a quality customer experience. An item is out of stock? Checking the nearest store for availability couldn't be easier!
The Ultimate Retail Communications Tool
Our cloud phone system will equip you with the tools you need to improve customer service, boost efficiency, help team collaboration, scale over time, and simply improve your business as a whole. 
With all the changes that have come our way in the past months, perhaps it's time to adapt and take things to the next level.
Contact one of our experts today to learn more.