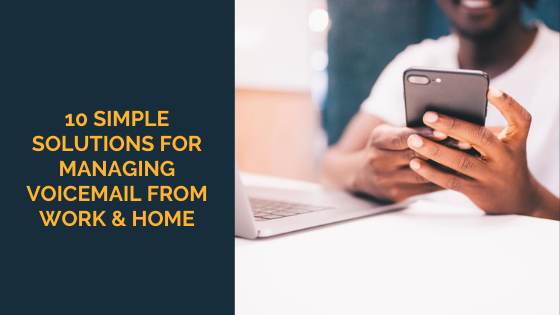 When it comes to growing a business and gaining customers, voicemail is an essential tool. Studies have shown that 92% of all customer interactions happen over the phone. That's a huge number! And 80% of those calls go to voicemail.
Today, effective work practices require you to manage your voicemail from both work and home. Here are 10 simple solutions to help you master your business voicemail from anywhere. 
Create Your Custom Voicemail Greeting
Before we address outbound messages, let's look at how to set up an ideal voicemail greeting. Whenever you're not available to answer the phone, customers should be greeted with a short message telling them exactly what they need to know.
1. Keep your greeting concise and up-to-date.
Make sure your voicemail greeting has up-to-date information. 
If you'll be on vacation for the next several days, update your greeting with info about how long you'll be gone, and how callers can get in touch with an associate for the time being. Don't forget to update it again when you return!
2. Give them a call-back window – and stick to it.
Ensure that your caller knows when you're going to get back to them. Many businesses call back within 24 hours, and this can be a great practice. In most cases, sooner is better. 
Be committed to calling back within that time. Sticking to your word will boost your reputation in the customer's eyes.
It can be helpful to set aside a half hour or so at the beginning and end of each workday for responding to voicemail messages. 
Master the Art of Leaving Messages for Others
Now that we've covered how to set up your automatic voicemail response, let's talk about how you can improve your voicemail messages to others.
3. Give your name & the name of your business.
If you're calling someone new, let them know who you are and what business you're calling from. Leave this information at the beginning of your message! It's unlikely that anyone would listen to a 20-30 second sales message without knowing where it's coming from.
4. State the intention of your message clearly and concisely.
Clearly explain to the recipient exactly why you're giving them a call. Are you hoping to renew a contract or inform them of a deal they might be interested in? Make it clear right off the bat.
The ideal length for a sales voicemail is about 20 to 30 seconds. That should be enough time for you to share any relevant info and give the customer a number or address to get back to you.
If it's too short, the customer may delete it without even listening. If it's too long, they'll likely lose interest and delete it as well – especially if they haven't had any dealings with you before.
5. Give your contact info & state when you're available.
Most people know that it's important to include contact info at the end of a voicemail, but it can make a huge difference to include it at the beginning, too.
Just like having your name at the beginning of the message can boost retention, having your contact info at the beginning can ensure that you'll get a response, even if the recipient doesn't hear the whole message.
If you want them to call you back, make sure they know the soonest you're available. This way they know when they can be sure you'll pick up without ending up in voicemail. (Unless you're in another call!)
You can say something like: "You can call me at 123-456-7890. I'm available from 1:00 to 3:00 all week. I look forward to hearing from you!"
Deliver the Most Effective Voicemail for Prospects
The average sales representative will spend around 25 hours a month leaving voicemails for prospects, so you want to squeeze as much value out of that time as possible!
More than just the content of your message, crafting a personal connection with your prospect can have a profound impact on their likelihood of responding positively.
6. Have a cheerful attitude.
When leaving a message, having warmth can massively boost your client's likelihood to respond, as well as accept any offer you're proposing. This warmth should be in both your tone of voice and the content of your message.
Up to 93% of potential cold-call success is attributed to the tone of the caller's voice during the conversation. That means your tone of voice can make or break your voicemail, regardless of how perfectly you word your message.
Sounding monotone and bored in your messages is a surefire way to shoot yourself in the foot and decrease your chances of getting a call back.
Try to have a good rhythm to your speech. Don't rush, but don't drag things out either. If you're confident and relaxed in your message, it'll be appealing to the recipient, and will compel them to call you back.
7. Build rapport.
Do research on your clients to boost your chances of getting a call back. Check out their social media, website, or other sources and use the information you glean to make a connection.
Include some sort of shared interest or experience in your voicemail to give your message a personal touch. This shows that you care about the prospect as a person and sets you apart from any competitors who only stick to cookie-cutter messages.
Use Digital Tools to Maximize Productivity & Save Time
Thanks to modern technology, it's easier than ever to streamline your work even when switching from your office to home. 
With SelectCom's phone solution, you can convert voicemails into text to make sure you never miss a voicemail, and quickly scan messages for only the important info.
You can even automatically redirect office calls to your mobile phone – and activate this feature on specific days (such as those when you're working from home)!
8. Use a system that works around your schedule.
If your weeks are split between working at the office and home, Answering Rules can simplify how you manage business calls and messages.
Answering Rules is a feature that allows you to create "rules" for your office line. For example, if you know you'll be working from home every Tuesday and Thursday, you can program your phone to automatically forward all calls to your mobile phone on those days. 
These rules can be created easily and changed at any time from any location with an internet connection. You don't have to be in the office to do it, you can even do it from home.
You may be concerned about sharing your personal cell number to business prospects, but that isn't an issue! With SelectCom's system, if you check your messages from home, you can reply to the message immediately without worrying about keeping your personal cell phone number private. 
This saves a ton of time and avoids voicemails being forgotten by waiting till you're back in the office to deal with it.
9. Use voicemail transcription.
Voicemail can be a real hassle to sort through, especially if multiple people are leaving messages that are 30 seconds or longer. This is where SelectCom's solution comes in with its super-convenient voicemail transcription feature! 
Voicemail transcription makes sorting through voicemail messages a breeze. When someone leaves you a voicemail message, an email is sent to your inbox. The email has the caller ID information in the subject line, allowing you to see at a glance who left you a message. 
This is especially useful if you've received multiple messages, but you're most interested in hearing from a specific person. You're able to quickly filter important messages and get back to the rest of them at a more convenient time.
With voicemail transcription, the body of the email contains a text transcription of the voicemail message. This saves tons of time because you don't have to listen to any pauses or long-winded rambling. Simply scan the text for the critical information you need to know. 
The transcription email also comes with the original audio file, so if the transcription isn't 100% accurate, you can just listen to the audio for that section instead.
10. Delegate & schedule actions immediately.
Rather than saving a voicemail message because you don't think you have time to deal with it right away, you can either create a task in your task management system, schedule it into your calendar, or assign it to someone else. 
All of these are super easy and take literally seconds when you use voicemail-to-email transcription. Depending on your email service, you can turn a voicemail email into a task with a click of the mouse. 
You can easily forward the voicemail email to a coworker if you need to. This can greatly streamline your message responses, and it takes little to no effort at all!
The Perfect Voicemail Solution for Home & Office
SelectCom's phone and voicemail solutions can completely reshape the way you manage your work voicemail!
Here's are some of the key features:
Your personal number stays private. Callers see only your business phone number. 

Connect over WiFi, 4G or LTE to minimize costs when out of the office.

Send and receive calls from anywhere just like you're at your office. 

Chat or text message

with your staff, co-workers, or clients.

See the full presence of your co-workers to stay aware of their availability.

Check voicemail messages or voicemail transcriptions from anywhere.

Manage answering rules. 

Record greetings.

Make extension-to-extension calls. 

Access advanced call control features, such as 3-way calling, transfer, hold, and more.
All of this can be done from both your office and your home – convenience at its finest! Get set up with the simplest solution for managing your voicemail from anywhere. Contact SelectCom today.