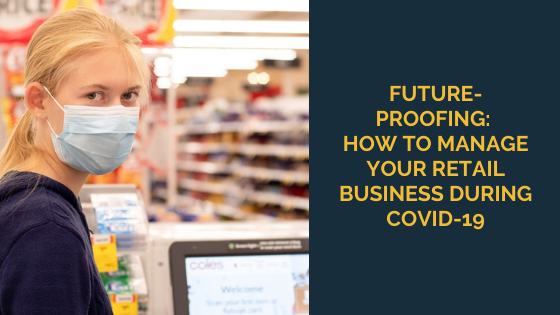 From health restrictions to temporary store shutdowns, figuring out how to manage your retail business during a pandemic is no joke. Many businesses have shut down for good, and more still are headed down that path right now. If you don't want to join those numbers, you must adapt.
With the right combination of creativity, innovation, and digital tools, your business will stay secure and come out of this pandemic even stronger than before! Here are some tips to help you manage your retail business during COVID-19.
Make Remote Work Easy
The vast majority of businesses have employed work-from-home for their staff – 88% have made remote work mandatory or heavily encourage it.
If your team is working from home, they're likely in uncharted territory without their usual resources at their disposal. To compensate, replacement tools are necessary. There are many virtual alternatives that will prove just as good – perhaps even better than your existing tools!
Try these COVID-friendly ideas:
Cell Phone Integration
Odds are, your retail store uses an office phone, but when your teams are working from home, an office phone isn't an option. With a cloud phone system, your team members only need their personal cell phone for their work-related needs.
Mobile Integration allows any cell phone to emulate an office phone – complete with a separate number, so there's no worry of revealing personal info. Take calls, make calls, leave messages – all functionality is available.
With an integrated cell phone, your team can make calls on the go, meaning unlimited availability, even in transit.
Keep your team safe without slowing down workflow!
Auto-Attendant
There are few tasks more boring than sitting in your home office and directing incoming calls all day. So why not automate it?
Auto-Attendant is a virtual receptionist. It receives calls, greets customers, and directs them to their desired extension. All with zero human involvement.
The greeting message is customizable, which means you can alter it based on the holiday season, or to promote a particular bit of info. You can even use it for free advertising!
Free up the phone lines and save your team some time with Auto-Attendant.
To learn more, read this article for an in-depth guide – The Virtual Receptionist.
Manage Everything From One Place
SelectCom's cloud phone system does much more than turn cell phones into office phones. It's a central hub for managing all your virtual tools from the comfort of your own desk – no matter how many locations your retail business includes. It even has CRM integration.
With conventional phone systems, you need to hire an IT specialist to implement any changes. A virtual system cuts out the middleman and lets you change things with the tap of a button. No extra hiring costs or server downtime.
Keep Your Customers Safe with COVID-friendly services
With the current health restrictions and COVID guidelines for retail stores, business is more complicated. People may be nervous about going into your store, and alternative contactless services will keep those customers shopping.
Contactless Payment
Contactless payment is the preferred payment method for modern retailers. Offering payment options such as mobile payment or Interac can put your customers' minds at ease. Some people may actually come to your business over a competitor's for this reason alone. It's worth the investment to set up.
Curbside pickup with SMS messaging 
Contact-free methods of delivery are preferred for safety's sake, but in retail, that may seem daunting to implement. Fortunately, it's a lot easier than you might expect. 
With SMS integration, you can use a company number to text message clients when their delivery is ready, and to inform them of their pickup spot. This can be done via cell phone, so you don't even need to be in the store to do it.
Curbside pickup is common, but you can also deliver straight to the customer's door, or simply offer indoor pickup in permitted areas.
Strong Online Presence
For any retail business aspiring to be successful, a strong online presence is an absolute must. The first place most people will look for a product is online, and you want your site to be at the top of their search results.
Up-to-date website
If you don't have one already, a website is key to gaining new customers. Connect your site with Google Maps, so nearby potential customers can find it and browse your offers online before coming in. 
It doesn't need to be fancy – a professional look, stock that's up-to-date, and contact info are the basics. 
Especially now, it's important to update your site regularly with store hours and stock, as well as current health restrictions. This keeps your customers informed of your availability at all times.
Social media updates
When people are stuck at home, they're likely to spend more time on social media. Advertising will pay off now more than ever, so get your brand on every platform where your customers are browsing.
Keep your customers in the loop on new deals, or offer some special promotions for new followers. Some social media sites will even allow you to sell products on the platform directly – Instagram is a good example.
Online shopping
49% of global consumers shop online more now than they did before COVID-19. Online shopping is another must for retail business growth during a pandemic.
Delivery is the preferred method for most consumers, but if delivery isn't an option, in-store pickup with online payment is a good second. With people actively avoiding contact as much as possible, low-contact business is the way to go.
If you're already involved in the e-commerce world, or if you're just getting started, here are some tips on improving your virtual business: 5 Ways Cloud Phone Benefits E-commerce Businesses.
For more retail business solutions, please check out: 4 Reasons Your Retail Business Needs Cloud Phone during COVID-19. 
Managing a Retail Business During COVID-19
You're taking on a new and unforeseen challenge. If you can adapt and thrive amidst this pandemic, your retail business will grow stronger by the time this is all over.
To set up your retail business for success during COVID-19, contact a SelectCom associate for more information about a cloud phone system and other solutions.