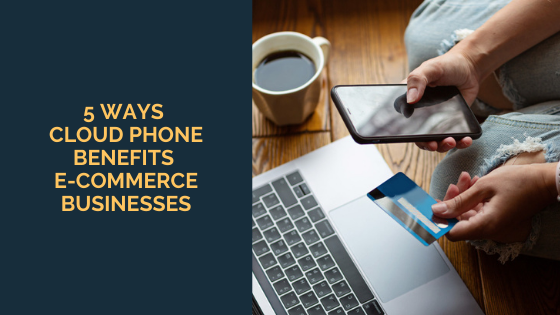 Over 2.14 billion people worldwide are expected to buy goods and services online in 2021. 
With a market that big, there's no doubt you'll have plenty of potential customers. In such a competitive market, you'll need your business to have the best resources at its disposal if you want to keep ahead of the pack.
Cloud phone is a tool that will transform your business by:
Giving you greater management capabilities,

Offering more tools for better customer service, 

Easy scaling as your business grows, and

Constantly improving features.
1. Quick & Easy Setup
Since cloud phone systems are hosted over the internet, they require minimal hardware to set up. All you need is an office phone to start, and any other devices you plan on using such as computers or cell phones can be added at your leisure.
Not only does this make setting up a breeze, it also saves on hardware and IT costs.
2. Customer Convenience
The customer is the heart of every business. What will push you forward in a competitive field like e-commerce is an outstanding customer experience.
People shop online for the sake of convenience, and if you can offer the most convenient service among your competitors, you're in good shape.
Click-to-call for online shoppers
If a customer has any questions about a product on your website, click-to-call allows them to simply click a button and immediately be directed to your business's phone line. This saves them time and makes for a smoother customer experience.
Virtual phone numbers
If your business serves customers in other regions, having a local phone number can give you a bit of extra trust and credibility. They'll feel more comfortable calling a familiar area code for questions or info.
3. Offer a Better Service
Approximately 89% of shoppers stop buying from online stores due to poor customer service. This means customer service should be your top priority if you want to keep your customers happy and loyal. 
The more ways you connect with your customers, the more positive responses you'll get.
Use SMS for promotions, new services, security, & more
Almost everyone has their cell phone nearby most of the day, and as such, text messaging is probably the most reliable method of reaching many of your customers. 
It's a great tool to send out promotions, special deals, and more. 
You can even use it for services such as curbside pickup, notifying them when their order is ready and where to pick it up. In the event of phishing scams and other security risks, send a text message to quickly warn customers of dangers.
CRM integration
Part of offering a better service is learning from customer responses. CRM integration logs all calls and voicemails under each contact, allowing you to easily keep track of each interaction with that customer. This results in a more personalized customer experience with no extra effort on your part.
Monitor success and more with call tracking
By assigning different numbers to different promotional campaigns or aspects of your business and tracking the number of callbacks you get on each, you can easily get a good picture of what works, what doesn't and how you can improve on them. 
This method won't make your team's job any harder, since all the calls will be routed to the same number anyway.
Forward customer calls to the right place
Our cloud phone system allows you to set up multiple lines so the customer can press a button to be directed to the appropriate person. 
If your customer is hoping to return an item, you can configure the system so they're offered a menu. They can press 4, for example, to be redirected to returns and exchanges.
It's simple, but it's easier for your team to manage incoming calls.
Learn from every interaction with call recording
Call recordings are an invaluable resource for multiple reasons. 
First of all, they're great for teaching trainees how to handle calls. 
Second, they can be used to smooth out customer service by recognizing and correcting mistakes as well as improving on existing strengths.
Combined with CRM integration, you'll automatically have a comprehensive log of every interaction with that customer at your fingertips. No tireless filing or manual data tracking required.
4. Seamlessly Scale
A good business is an adaptable one. Not only to the bad things (like a global pandemic), but to the good things as well. 
Your business should always be prepared for growth. A cloud phone system makes that simple.
Grows with your business
The geographical flexibility of a digital system means you can have offices in far away regions operating as though they were in the same building. 
You can expand to an unlimited number of locations without having to purchase and install a new system for each one. Apart from a single office phone, the transition requires no hardware at all.
New hires? No problem! Adding additional users to your system requires no more than a few taps or clicks.
Unlimited long-distance
Businesses can rack up quite a hefty phone bill in a brief period of time when it comes to long distance calls. 
Unlimited long distance means that no matter how far you branch out, you can continue without fear of sudden costs.
5. Improved Security
Servers and phone systems can get damaged in accidents, and that downtime and repair can be costly to your business. But what if you could eliminate that factor entirely? 
No more physical risk + mobile integration
The complete absence of physical servers means that your phone system is disaster-proof. Even if something were to happen to your physical location, mobile integration would ensure that business can continue as usual without any hiccups. 
Rather than using office phones, team members can use their personal cell phones in the place of office phones – with 100% of their office phone's functionality, right down to the phone number!
Data is backed up constantly to our servers, so even if you lose data, it can be restored immediately.
With our system, your customers will never even know a disaster occurred at all. Your quality of service doesn't have to suffer one bit.
Future-Proof Your E-Commerce Business
As technology constantly improves, businesses need to keep up. 
While some systems may grow outdated, our cloud phone system constantly undergoes updates to ensure that you're never left in the dust. You won't have to change systems or upgrade for extra charge. We never stop growing and improving our system, so you can stay future-proof.
Choose our cloud phone solution, and become a business that's built to last. Contact a SelectCom associate for more information on our services for e-commerce businesses.