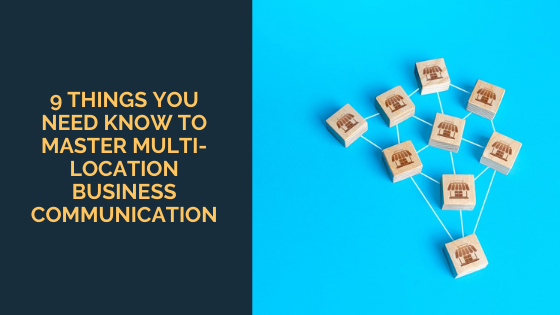 When your business grows enough to open multiple locations, it's exciting. But communication between multi-location businesses is one of the biggest challenges you face with that growth. How can you centralize or streamline communication for maximum productivity in a cost-effective way?
Here are 9 things you need to know to master multi-location business communication.
1. Streamline with a System Shared By Each Location
One communications system shared by each location is the best way to streamline things. A centralized system including phone, fax, SMS messaging, and audio and video conferencing keeps communication simple. 
No matter how many locations your business has, you only need a single system. Each location can have their own phone numbers, but all features and functions are shared. The uniformity makes collaboration easier and saves everyone money.
This streamlined system improves internal communications between employees, departments, or locations. It also improves customer service by connecting callers to the right person more quickly and providing extra customer support to handle high volumes.
2. Eliminate Hardware, Long Distance & IT Costs
Maintaining multiple phone systems can be expensive. And depending on the distance between your locations, collaboration and internal communication can add up fast. A cloud communications system eliminates all the extra expense.
A cloud phone system requires only one compatible office phone and an internet connection. That's all the hardware you need. No matter how many extensions you need to add, you only need to purchase and maintain more hardware if you want to. Users can use mobile devices, computers, or more office phones. This saves you the cost of hardware and the maintenance that inevitably goes with it.
Because all communication happens in the cloud, you won't pay long distance fees. Long distance calling is included in your plan.
3. Simplify Your Communications Bills
With a cloud communications system, your head office can have the main account and all other locations can become sub-accounts. Each location has the benefit of the same features and functionality of head office at a fraction of the cost. 
By unifying all your communications with one cloud company, your billing is simplified, too. No more separate bills for each service. No more hidden fees. 
4. Centralize Audio/Video Conferencing
Audio and video conferencing are more crucial than ever for effective multi-location business communication. Many conferencing solutions require a combination of services which can also mean added costs and confusion for users. 
We've all experienced the conference call that begins with 15 minutes of technical difficulties and phone calls to help users figure out how to join. The fumbling with buttons to figure out file sharing wastes time and causes frustration. 
A centralized conferencing system keeps collaboration seamless between all your business locations. As a part of your communications suite, conferencing is simple to use and makes it easy for every user at every location to become familiar with the features. 
SelectCom's video conferencing solution provides the added benefit of standing meeting rooms. Create a meeting room for each location, department, or team. No more sending out new codes or invites for every conference call. Simply rejoin the same standing meeting room you used last time. It couldn't be more convenient.
5. Maximize Features for All Locations
With some phone systems, the cost of including specific features at each location can be prohibitive. Not so with a cloud phone system. Every feature is available for every location in a budget-friendly solution that produces top-tier results. 
Sharing features provides more than cost advantages. For example, call queues or ring groups allow multiple locations to handle incoming calls together. This eases the pressure on a single location during high call volume periods.
Find out how this feature worked for Flowers By The Dozen in this case study.
6. Efficiently Manage the System for All Locations
The customization of a cloud communications system is one of its strengths. Don't let the word "customization" intimidate you. Managing the system and all its features could not be more user-friendly. 
With SelectCom's user portal, you can add or remove users, extensions, and locations with a few mouse clicks. No IT experts are needed. From anywhere with an internet connection, you can also:
View current user profiles

Manage contacts

View call history including active calls in progress

Set up Find Me Follow Me, call forwarding, call queues, and answering rules

Customize music on hold

Manage voicemail greetings and messages

And much more
There is a manager portal and a user portal. You can decide which users have access to specific features.
7. Affordable Scaling
With cloud communications, you pay only for what you need, when you need it. Scaling your business could not be easier. Add or remove lines in minutes with a few mouse clicks. Equip your locations and users affordably and maintain effective communication without complexity.
8. Save Time
Productivity increases when time is spent most effectively. Wasted seconds add up to wasted minutes. Multiply that by the number of locations and employees your business has and those unproductive moments become significant.
Many features of a cloud communications system save you time through automation and integration. For example:
Auto-Attendant

– a virtual receptionist that can answer and direct calls

Voicemail-to-Email

– voicemail transcription so you don't have to listen to every message

CRM Integration

– automatically access caller's information

Click-to-Call

– stop dialing numbers and simply click to call
9. Support a Mobile Workforce
With SelectCom's mobile integration, your cell phone has all the capabilities of an office phone and more, giving you the freedom to make and receive calls from anywhere inside or outside the office. If you or your employees work at more than one location, your phone settings, contacts, and features can be at your fingertips no matter where you are. 
Some businesses hesitate to allow mobile devices for business use. However, with our system, business calls from an integrated cell phone appear to come from the office. Your personal number is kept private while you have access to all the functionality of your office phone. It's the best of both worlds.
The Best Solution for Multi-Location Business Communication
If your business is expanding to multiple locations or if you operate a franchise company, a cloud communications system is your best option for many reasons. You'll save time and money, enjoy a simple user interface, and improve productivity company-wide. 
Set your business up to scale and provide your teams with the best collaboration and communications tools available. Contact a SelectCom associate today to get started!