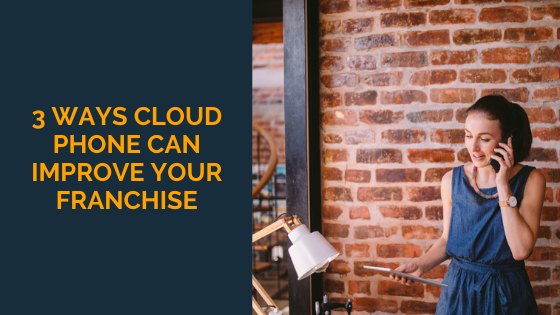 A new franchise in Canada opens every 2 hours, 365 days a year. That's a lot of businesses owned and operated by a lot of people! And for success in a multi-location franchise business, communication between all those people is key. 
Whether you manage one store or own an entire chain, it's critical that you're able to communicate with your team in order to update them on important info, arrange meetings, and more.
Fortunately, technology makes that easier, but are you using the best tools possible? You need a solution that not only offers great features, but is cost-efficient for multiple locations.
Whether you're the owner of a store within a franchise, part of a franchise group, or a franchise owner, our cloud phone solution can take your service to the next level.
Here are 3 ways a cloud phone system can improve your franchise business.
1. Easy Collaboration for Franchise Groups or Team Members
For a franchise, you'll want a system that allows for smooth communication between separate locations, and offers multiple ways to do so. Simply calling one another on the phone won't cut it.
Mobile Integration
We've been using office phones for decades, and while they can still prove useful, current workflows demand that we have other options for business calls in the workplace. 
With our mobile integration feature, your cell phone has all the capabilities of an office phone and more, giving you the freedom to make and receive calls from anywhere inside or outside the office. 
This is especially useful if your business does deliveries or otherwise requires work outside the building. Even team members on the road can take calls! 
SMS Group Chat (With New MMS Feature)
A group chat for your team is a great way to keep everyone in the loop. Everyone can stay updated at all times from their cell phones, and with MMS, there are even more possibilities for its use. 
Team members can send videos, audio files, and images. This opens the door for team members to draft promotional materials, bounce ideas off one another, and more. The possibilities are endless.
For retailers, in particular, messaging is a must-have for curbside pickup scenarios.
Advanced Call Recording & AI Analytics
With our latest update, SelectCom's voice analysis feature allows calls to be analyzed for emotional intent. Call recordings allow you to search for keywords and phrases. Both of these features provide deeper analytics about the mood and sentiment of callers, providing a more effective resource for training and improved customer service.
Microsoft Teams Integration
SelectCom is now integrated with Microsoft Teams. Microsoft Teams is a well-known system designed for team collaboration, and with SelectCom's integration, even more features are unlocked!
2. One Solution, Unlimited Locations
A franchise isn't a business with only one location. For a franchise with multiple locations, a cloud phone system allows you to save big on costs. 
Only one system subscription is necessary for any number of store locations.
A cloud phone system can be set up in a multi-tenant environment
Since only one system is necessary, you can have any number of store locations using the SelectCom system at a time. 
This will save you a good deal of money, because you won't have to pay for multiple versions of the same service for each individual location. 
Use the same phone number for all your stores
For a professional and consistent feel to your business, SelectCom's system allows you to have one phone number for every location under your brand name .
Any calls to the main number will be directed to the first available location. This makes it easier for customers, who won't have to remember multiple numbers for different locations.
Calls can also be directed to specific locations based on an automated menu callers can select from.
Shared call queues for improved customer support
Sharing call queues means that all calls to your business's number can be shared between each location. 
If one location is typically busier than the rest, they won't receive more calls than they can handle, because all the calls are essentially spread evenly between locations.
The master solution for a large franchise owner
With a cloud phone system, you'll save money with every new location! 
Since you won't have to pay for a complete phone system every time, those extra funds can be invested into other aspects of your business.
3. Flexible Costs
Cost is a huge factor in deciding which service to purchase. You need to choose the one that offers the most value for the best features. 
Here are some of the reasons our cloud phone solution is the best choice.
Customizable Plans
A customizable service is great, because you can tailor it to your business's individual needs. There's no need to get extra features that you won't end up using!
And if you want extra features, we can accommodate that, too. Our cloud phone system will fit your needs perfectly.
Unlimited Long Distance
If your franchise is particularly large, or you simply deal with clients in distant areas, long-distance can be a costly, but necessary, expense.
But with our cloud phone solution, you won't have to pay anything for it! Unlimited long distance comes with the package.
Reduced Hardware Costs
This is another place where a cloud-based system shines. Rather than requiring a full system set up in each location, you only need to download the application onto your existing devices. 
Only one office phone is actually required at each location for the system to work. The rest of the devices can be cell phones or other company devices and computers.
You can save a huge amount of money on hardware costs!
Enterprise Features
Our enterprise features will save you even more money:
Cloud faxing

means you save on paper, fax machines, and other hardware.

Our

call-forwarding

and

call-back

features ensure no call is missed, no matter how busy the phone lines may be.

Auto-Attendant

acts as a virtual receptionist, screening and routing calls to the appropriate extension. You can create a custom message to inform incoming callers of deals, offers, updates, and more!

Voicemail-to-text

and

voicemail-to-email transcriptions

save you a ton of time by converting incoming voicemail into text that you can quickly read!
With a cloud-based system, you won't even need to pay for IT specialists!
The Ultimate System For Any Franchise
With all these great features, it's clear how beneficial a cloud phone system can be for your franchise business.
Contact a SelectCom cloud phone specialist for more information!