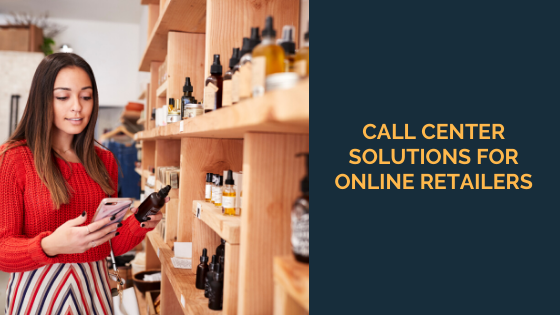 Excellent customer service is an essential component of any successful online retail business. Today's technology can equip your business with the tools you need to meet your customers' expectations. A cloud-based call center is the best solution for online retailers. 
Personalized Service with a Call Center Solution
Delivering a seamless, personalized customer experience is easier with a cloud-based call center. Integration with your CRM gathers all your customer data in one place. 
Contacts are automatically displayed when you receive a call, making it super fast to check on a caller's order status, issue a return, or identify key customers. With complete customer context at your fingertips, problems are solved quicker and service is as personal as possible. 
Valuable Insights with Call Center Analytics
Real-time analytics make managing KPIs simple. Monitor metrics like speed to answer, abandon rates, and resolution time to identify trouble spots and make improvements quickly. 
Call recording provides valuable insight into the kind of service your customers are getting. Increase the effectiveness of your training by using call recordings. 
Prepare for Peak Seasons with a Cloud-Based Call Center
The flexibility and affordability of a cloud-based call center make it simple to adapt to seasonal demands. There's no need to compromise on customer service. 
The management portal of your call center lets you add new associates and only pay for them when you need them. 
Quickly activate a remote workforce, allowing associates to work on a mobile device from a location most convenient to them. This flexibility is useful for part-time or after-hours staffing needs. 
Digital Customer Engagement
Customer engagement changes along with technology. The cloud-based call center has SMS integration, allowing associates to interact with customers through the Chat-to-SMS feature. This ability to reach your customers through multiple channels increases the level of customer service your store can provide. 
Staff Empowerment & Customer Satisfaction
The many features of a cloud-based call center empower your staff to provide a customer experience of an online shopper's dreams. 
The Best Online Retailer Call Center Solution
For online retailers, a cloud-based call center is the best solution. Offering a robust suite of features to equip your staff to provide a top-notch customer experience, this flexible and affordable call center solution is an easy choice.
For more information about how a cloud-based call center can benefit your online retail business, contact SelectCom today.