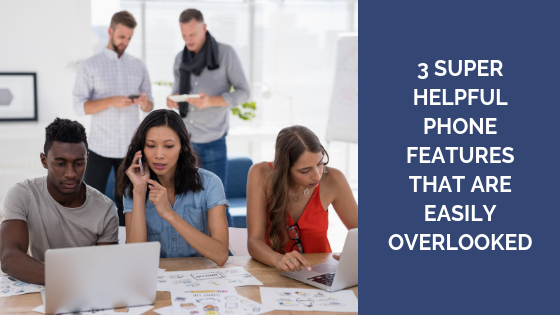 In the fast pace of business today, you're constantly working to increase productivity and streamline business processes. Sometimes it's the smallest or simplest thing that can have the biggest impact. 
Your business phone system is a vital part of your work. It makes sense that it can have a huge effect on the productivity and efficiency of your workforce.
These 3 features of a cloud phone system are easy to use and make a massive difference in the simplicity of your communications. Yet they're often overlooked. 
1. SMS Messaging & Queues
Text messaging has become the communication of choice for many people. It's quick, easy, and convenient. A brief question can be answered in seconds. Group texts can simplify collaboration and planning. Quick conversations can happen at any time no matter where you are. 
The ease and convenience of messaging can become a part of your business communications using the cloud phone system. The SMS Messaging feature allows you to text coworkers from your office phone console – either from your desktop computer or your mobile device. No need to worry about giving out your personal cell phone number to customers or coworkers. 
SMS Queuing is great for customer service and sales. Set up one text phone number for sales enquiries. When a customer sends a message to that number, your entire sales team will receive it and can respond to it. This is equally useful for customer support teams. 
2. Simultaneous Ring
Being anchored to your desk can hinder your productivity. Success in business often demands that you're available for calls no matter where you are.
One of the biggest balancing acts in today's business world is the need to be in multiple places at once. So if you're taking an extended lunch, working from your cabin or just running late getting back to the office, how do you ensure that you never miss a call?
The Simultaneous Ring feature of a cloud phone system allows you to program many numbers where you can be reached. A call will ring all your phones in a cascading or simultaneous order. The only way you'll miss a call is if you want to!
3. Call History
Do you remember what calls you made yesterday? What about last Friday? How many minutes has your sales team spent on the phone lately? 
As amazing as your mind is, it can only hold so much data. Your memory sometimes doesn't deliver as well as you'd like. And that's okay because modern technology can save the day!
With the Call History feature, you have all the data of your entire organization's call logs right at your fingertips. This helpful feature provides downloadable detailed call records by extension or by company.
Having this valuable information accessible is great for meetings. You can show your team call stats or review time management.
Take Advantage of These Features
Take advantage of these helpful features! Maximize your cloud phone system to increase your productivity and streamline the processes of your business. Your team will thank you for it!
For more information about these or any other of our amazing products and services, contact us today!