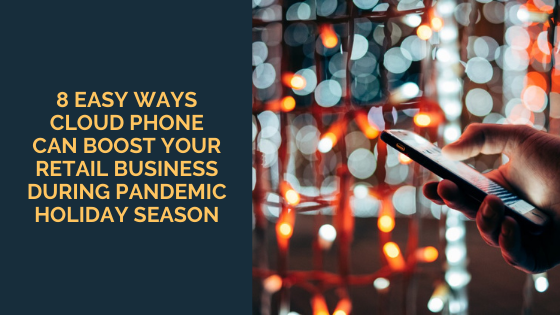 For retail businesses, the holiday season can be a fast-paced, hectic mess, with customers blazing through the store by the dozens to buy last-minute gifts. And this year, retailers are dealing with a pandemic holiday season.
The challenges this year may be greater than average. But with the right tools, you can bring down tensions for your employees, capably deal with the swaths of customers, improve your customers' shopping experience, and finish the year more successful than ever!
Here are some ways a cloud phone system can make this holiday season a breeze for your retail business.
How to Manage High Customer Volume
With the trees and holiday lights come hordes of customers in pursuit of gifts for their loved ones. This is great for sales, but it's easy to get overwhelmed. 
While dealing with in-store shoppers, constant calls coming in may prove to be too many for your team to handle, with communication errors, unavailability, and other problems getting in the way.
Some customers will naturally get frustrated being on hold for too long and hang up, causing you to lose sales.
So, how can you prepare your store to handle all these calls without leaving any customers high and dry?
Our cloud phone system contains some powerful tools that will help you to do this easily!
1. Auto-Attendant
The Auto-Attendant feature is a virtual receptionist that automatically answers incoming calls, plays a customizable message, and directs callers to their desired extension.
Auto-Attendant can stay active even when your store is closed. You can set a different message to play for customers who call after hours – perhaps to inform them of opening and closing times or answer common questions about your COVID-19 safety measures. 
Since it's a virtual system, it can handle many calls at the same time, so your workers can focus on keeping in-person shoppers safe without neglecting your at-home customers.
For ideas on using Auto-Attendant and other voicemail help, check out our post on Managing Voicemail From Work & Home.
2. Cell Phone Integration
Your team's availability to answer the phone is key to managing a high influx of calls. But doing this well is never more challenging for retailers than during the holiday season.
Cell phone integration is the solution.
It allows your team to stay connected even outside the building via cell phone. With our softphone app, a cell phone gains all the capabilities of an office phone and more.
This means that no matter where you may be, you can respond to calls – as well as make them – as though you were sitting at your desk in the office. Calls even display as your office phone's number!
With the current COVID-19 restrictions, this feature is even more valuable. A self-isolating employee can help their in-office coworkers by answering calls via their cell phone, from the comfort of their home.
It's a win-win. The quarantined can be working and useful while the in-store employees can completely focus on in-person shoppers.
And the best part yet- the transition is so seamless, your customers won't know the difference!
3. Answering Rules
Our cloud phone system includes a special feature called Answering Rules.
This feature allows you to customize ring priority for incoming calls, redirect calls to available lines, and much more. 
Ring priority causes incoming calls to ring your team's office (or cell) phones in an order that you set.  
For example, an incoming call first rings phone 1. When phone 1 doesn't pick up, phone 2 will ring, and so on, making it more likely for customers' calls to be answered. 
If you have multiple departments or locations, you can set incoming calls to go to a different branch/location at set times. For example, if your smaller store gets overwhelmed on Monday afternoons, you can set calls to go to your larger store at that time.
4. Automatic CRM Integration
This time of year your customers may be as stressed as you are, preparing for the holidays and getting everything in order. When they call, it's best to keep the phone call brief and concise, without hiccups. 
Our cloud phone syncs your office/cell phone with your CRM database. With every incoming call, that caller's information is immediately pulled up on your computer screen. This saves you a lot of time during the phone call that might have otherwise been spent scrolling through files while the customer sits in frustrated silence.
Instant access to purchase history, emails, calls, and more, saves the customer time, and frees up your team to take even more calls and serve more customers in such a busy season.
5. Stay connected across multiple locations
Any number of store and office locations can be connected to one SelectCom cloud phone account. No need to purchase more than one subscription. This offers big savings on resources you can spend to prepare for the holiday season!
The great part of a shared system across multiple locations is the fact that you can redirect and manage calls and other tasks between locations, evening out the workload.
The holiday rush requires adaptation if you want to succeed – and every advantage you can get! A cloud phone system makes that possible.
Stay Connected With More Customers Easily
Technology offers us many ways to communicate with one another, yet many businesses adhere to select channels, cramping their capability to reach all demographics.
Fortunately for you, this is a perfect opportunity to pull ahead of the pack and outshine the rest!
6. SMS messaging and curbside pickup
Curbside pickup is a popular retail service right now amidst COVID-19, since it's a no-contact shopping method. It'll only get more popular as the holiday season goes on, so now's the best time to adopt the feature for your own business.
SelectCom's SMS integration makes setting up a curbside pickup service super easy. From their cell phones or another device, your team can contact customers for incoming orders, order progress, pick-up areas, and any other necessary details.
Customer communication preferences are changing. Text messaging open rates as high as 98% far exceed most other forms of digital marketing. And the response rate for text messages is 45%. That's impressive.
Check out these recent statistics:
A whopping 85% of customers prefer receiving text messages over a phone call or email.

68% of consumers would like to use mobile messaging to contact a company with billing questions or concerns.

A majority (71%) of consumers consider text messaging an effective form of communication with a business. 

64% of consumers believe companies who text value their time, are progressive and would recommend them to others.
Those are some convincing statistics! Clearly SMS messaging can significantly boost communication with your customers and improve your brand.
Improve the Pandemic Holiday Shopping Experience
This year is an extra stressful one for everybody, but that doesn't mean you can't offer your customers a source of stability or even a pleasant shopping experience.
These features will not only make your system good – it'll make your customers' experience better than it's ever been!
7. Online Portal
The cloud phone online portal gives you complete control over your entire system from any internet-connected device. 
You can disable and enable features, edit your calling rules for the holidays and customize your voicemail, hold messages, and hold music.
Your system can be managed remotely, so even if you're in isolation, you can still stay in control!
8. Customize Voicemail Messages and Auto-Attendant for the holidays
A special holiday message is usually well-received by customers, but you can add more than just a seasonal greeting. It's a perfect opportunity to tell customers about the safety precautions you're taking to keep them safe in your stores, as well as any important changes they need to know about. Remind them that they're your top priority. 
Edit your Answering Rules to redirect your calls in a way that best suits the season. You may even want to add a new temporary department for certain phone calls during this season (such as curbside pickup or returns). And you can do that from your online control panel, too.
9. Learn from experience with analytics
Real-time analytics give you a clear view of customer trends, how many calls you get, peak call times, call volume and duration, and more important data. This information can help you with appropriate staffing and improve the customer experience. 
With all the traffic, odds are you'll get new customers, and the more tailored and fine-tuned their experience is, the more likely they are to become a regular customer. Take these analytics and use them as an opportunity to grow.
Set Your Retail Business Up for Success this Pandemic Holiday Season
At SelectCom, we've taken a special interest in supporting retailers during this pandemic holiday season. Our system is optimized to make the switch to a cloud phone system seamless and simple.
For a list of the most recently added features, read Everything You Might Have Missed In SelectCom's New Feature Update. 
Contact a SelectCom associate to set your retail business up for success this pandemic holiday season. It's not too late!