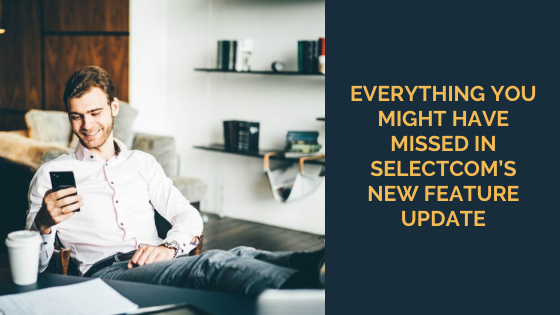 In our latest update, we've added new features and improvements for you to enjoy!
With everything going on right now, it's hard to keep track of things. So for your convenience, we've compiled this list that covers everything you may have missed in our recent SelectCom update.
With these new additions, your business will run even smoother than before!
Brand New Video Conferencing Application
We've been working on creating a video conferencing program to add to SelectCom's suite of communications services. During the COVID-19 lockdown, we had the opportunity to test it live as we adjusted to online work!
The application has all the capabilities of average video conferencing software, plus some less-common features like breakout rooms.
Breakout rooms allow you to break meetings up into smaller groups for discussion, and then reconvene with the whole group later. This can be really valuable in larger teams, or in multiple groups that each need to specialize on a certain task.
New Auto-Attendant Feature: Interactive Voice Response
This feature will make your customer's calling experience hassle-free. 
Many times, a client calling on the phone will be busy with other things at the same time. With the power of AI, Interactive Voice Response allows your customer to reach the extension they want without even touching the phone!
Your client can dial your number and say the word "sales" into the phone and be automatically redirected to the sales department. No human contact is needed, saving your business money on staffing costs!
Softphone Updates
Softphone is a central part of our cloud phone solution, and as such, we want to improve it in every way we can!
More Endpoint Device Support 
There are plenty of phone models on the market, and it's necessary for our program to offer support for virtually any type of phone that a client may use. We now support more models, including the Avaya J series of phones.
Text Messaging Improvements
Text messaging offers a quick and convenient solution that a phone call just can't provide. As more and more businesses start to employ text messaging, you want to have the most up-to-date features so you can stay ahead of the competition!
Emoji and MMS Support
Your team can now send multimedia messages, including gifs, images, emoji, and more!
These additional capabilities can be useful for: 
Customers to share screenshots with your support team or help desk;

Sending promotional offers and coupons;

Handling curbside pickup (by notifying customers when their order is ready and enabling customers to text when they arrive for pickup);

And more.
Group Chat with SMS and MMS
Group chat can be an incredibly useful tool when a more structured audio or video conference isn't necessary. Teams of multiple people working on a shared project can collaborate and keep in contact on the go. 
Multimedia support means that team members can send each other graphics, ideas for promotional material, helpful videos – pretty much anything that's an image, audio, or video.
Group messaging is a great tool that will help every team within your business function as one cohesive unit.
Improved User Experience Updates
These features will improve and streamline your experience as you manage your business. Your communications will be more secure, faster, and easier to use.
Single-Sign-On 
With mundane tasks like daily logins, convenience is key. You can now log into Office 365 and Google as one user with one set of credentials, saving you time.
Multi-Factor Authentication
Multi-factor authentication adds an extra layer of security or two. If you end up revealing your login credentials somehow, anyone who tries to use them still won't be able to get in because of the extra measures. 
Whether those extra factors are security questions, a fingerprint, voice recognition, or anything else, you can rest assured that your personal login is safe and secure.
System Upgrades
We've made some upgrades to our system to boost speed, uptime, capability and more. These upgrades include:
Faster ports 

Improved networks

More coverage 

New carrier announcements

Geo-redundant SBC (multiple server locations) 

Switch upgrades
Customer Service Improvement Tools
The customer is the heart of a business. Without customers, a business could not exist, so improving the customer experience is always a valuable investment.
Advanced Call Recording and AI Analytics
. 
With the new update, call recordings now allow you to search for keywords/phrases, and AI allows you to measure the caller's sentiment during the call. Both of these features make call recordings into a more effective resource for training and improvement purposes!
Additional Features
Here are the last of the new features in the update!
Major Portal Fax improvements with cover pages

Major multi-site enhancements and new Site Manager user scope

Improved CRM integrations with richer direct call logging

Text-to-speech engine that records names and greetings
Upgrade Your Phone System
If you want to enjoy these features for your own business, please contact us for more information!