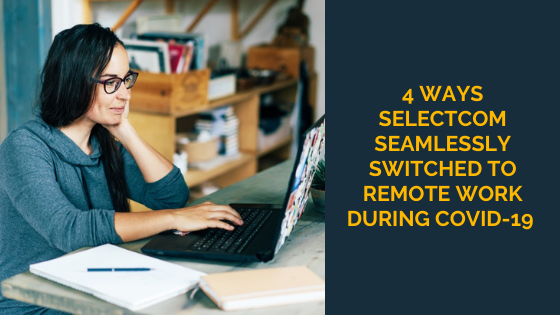 80% of organizations have expanded work from home policies due to COVID-19 – and SelectCom is no exception.
We had to move our business online during lockdown, and we got to see firsthand what our own products can do. Transitioning from a physical office to a digital one was nearly effortless thanks to our cloud phone system and new video conferencing tool.
Down Time Innovation
Pre-lockdown, we were in the process of developing our video conferencing tool. Thanks to the lockdown, we got a great opportunity to get two different things done at once: maintain team communication, host meetings, etc. AND test-run our new video conferencing tool!
We were able to check for any technical issues and areas to fix, and we were also able to develop a much better product, more suited to what we needed at this time. Our lockdown experience helped us to discover new ways to improve our services – ways we might not have figured out otherwise!
Virtual Collaboration
For example, we found a need for smaller team breakouts separate from the main meeting. Seeing that need, we added virtual breakout rooms as a feature to our new service. 
These breakout rooms are constant meetings that anyone can join at any point without a lot of complicated setup.
Work After Lockdown
One of the great benefits of using a cloud phone system is that the whole thing operates through the internet. This was a massive time-saver. All that our sales and customer care teams did was take their phones home and plug them into their home networks, and they were up and running the next day. Simple as that.
Now that staff are able to return to the office, some have decided to continue working from home, some want to come back to the office, and some are splitting their work between the two locations. Our cloud phone and video conferencing services allow us the flexibility to accommodate all these options for our team. 
How to Switch to Remote Work Like SelectCom
It's plain to see how effortlessly this transition went. But why did everything operate so efficiently? And how can you benefit from hearing our story?
The number one reason things went so well is that we had the best tools for the job. 
Our cloud phone software eliminated all the extra steps involved in moving a phone system from one location to another (and in our case, to many different locations!).
With a traditional phone system, these additional steps can include:
Planning an appointment with a phone company,

Moving a big, bulky system from one location to another,

Purchasing new cables/wiring/equipment,

Setting up new phone numbers, and more. 
That's a lot of money, time, and effort you can save if you're using a cloud phone system. 
And using a traditional phone system effectively in a work-from-home situation is virtually impossible, since setting up a complex system in each team member's house is not realistic.
4 Ways Cloud Phone Can Benefit Your Business – Online or at the Office
Our cloud phone solution is a silver bullet for any business looking for a super-manageable, convenient communications system. It's packed with plenty of useful features that will greatly boost work efficiency and customer response!
1. Voicemail Transcription
Listening through voicemail messages takes a decent amount of time, and it can be frustrating to sit through a minute long message for info you could get in 15 seconds or less. 
Fortunately, voicemail transcription solves that problem! Your incoming voicemails are converted into an email with a text script of the message, so you can quickly scan the message for relevant info and move on to the next. 
2. Mobile Integration
Modern technology lets us make calls from pretty much anywhere as long as we have a cell phone. Since you'll undoubtedly have to spend some work time away from your home desk and office phone, why not put your cell phone to work too?
With mobile integration, you can log in and take calls from your mobile phone as though it were your office phone. No wires required. Take work calls from anywhere!
3. Additional Features
In addition to these features, SelectCom's cloud phone solution offers many more, including:
Auto Attendant

– a virtual assistant that automatically answers and directs calls

Presence

– shows at a glance who is available to pick up a call 

Audio & Video Conferencing –

connect with your team from anywhere

Chat & SMS Messaging –

for even easier communication through your cell phone

User & Manager Portals

– remotely access your system from anywhere, and receive analytics and call recordings to help you monitor and adjust your own services 
With all these features, our cloud phone system is among the best technologies for working remotely.
4. Video Conferencing
Our video conferencing solution is currently in early customer access, and new updates and features are still being added to ensure the best experience possible upon full release. For the time being, the main conference feature as well as the breakout rooms are live, and they work well in conjunction with our other communications tools. Be among the first to try our new video conferencing solution! 
Make Your Switch to Remote Work Easy
It can be overwhelming to transition your business from office work to work from home, but here at SelectCom, we can make the process smooth and simple. 
Our tools can make your switch to remote work seamless and help your business run like a well-oiled machine long after the transition. Contact us today and discover what our services can do for you!