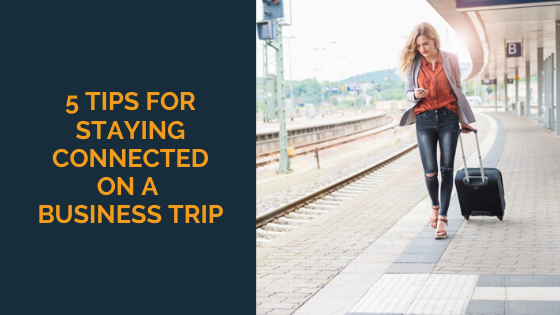 Effectively staying connected on a business trip can make the difference between a stressful, unproductive trip and an enjoyable, successful one. You have enough to think about with delays, jet lag, and other travel hiccups. Business communications while travelling should make things easier.
These 5 tips for staying connected on a business trip will help you when you travel for work.
1. Access the Internet Safely
Public WiFi spots are a great way to avoid data roaming charges, but they're not always ideal for business use. These internet connections are on shared networks – unencrypted and unsecured. Using them can leave you (and your company) vulnerable to credit card fraud, identity theft, and various other forms of private data breach.  
A couple of alternatives to public WiFi are:
A VPN (Virtual Private Network)

– Browse safely, securely, and anonymously.

Your own WiFi hotspot

– A good portable WiFi router is an option, or share your smartphone's connection using a process called "tethering". 
Depending on your needs, you may be able to manage without internet access entirely (at least for some of your business trip). Plan ahead to download projects you need to work on, maps, and even specific web pages. Don't forget about entertainment; download some music and/or movies for long flights or winding down after a long day.
If you must use public WiFi, make sure your software is up-to-date with the latest version. Try to find a secure network, visit only secure websites, and avoid sending sensitive information (such as login details and banking information). Remember to turn off your device's WiFi when you're not using it.
2. Avoid Excessive Calling Charges
The best way to avoid excessive calling charges is by using a cloud phone service. A good cloud phone service provider will have a mobile phone app that turns your mobile device into an extension of your business phone. Calls are made using an internet connection so you use none of the minutes on your mobile phone plan. 
Using SMS Messaging and Chat to stay connected with your team can also save your calling minutes. This is a feature of SelectCom's softphone app, along with the following benefits:
Send and receive calls just like you're at your desk.

Your personal number stays private. Callers see only your business phone number.

Connect over WiFi, 4G or LTE to minimize costs when out of the office.

See full presence of your co-workers to stay aware of their availability.

Check voicemail messages or voicemail transcriptions.

Manage answering rules.

Record greetings.

Make extension-to-extension calls. 

Access advanced call control features, such as 3-way calling, transfer, hold, and more.
If you travel out of the country, be aware of roaming charges, text message fees, and long distance calls. To reduce additional costs to your usual cell phone plan, consider buying roaming hotspots or replacing your phone's SIM card with a travel one.
3. Manage & Update Your Contacts
Out-of-date contact information when you need to connect with a contact is as bad as no information. Keep your business contacts current to simplify communication while traveling. 
Jobs, titles and positions change, as do emails and phone numbers. Diligently update contact information daily – better yet, update the minute you learn of a change. Don't wait to make sure it's all current the day before you leave on a business trip. 
If your business uses a cloud phone system that integrates with your CRM, your softphone mobile app will automatically include access to all your business contacts. This is another benefit of a SelectCom system.
4. Keep Your Devices Charged
Have all your devices fully charged before you leave. Throughout your trip, pay attention to possible outlets you can use if you need them – in a restaurant lobby, your hotel room, or charging stations in a mall. A mobile power supply is an excellent backup. 
If you'll be spending a fair bit of time in an airport, an airport lounge can help you escape the stress of the terminal and set up a mini office. These spaces usually offer refreshments, a quieter environment and faster WiFi. 
Pro Tip: Bring a small powerbar with you and become the hero of the airport.
5. Access Your Documents
Storing all your documents locally on your device is not always the safest option. If your device gets stolen, you lose it all. It's also less convenient because the files are only available on one device. 
A more convenient option is to store all your files securely in the cloud. This allows you to access them from any device with an internet connection. With this method, it's recommended that you encrypt your device. Doing so will prevent access to the files if your device is stolen or lost. 
Stay Connected on Your Next Business Trip
SelectCom understands the importance of staying connected on a business trip. Our system is designed with remote work in mind. To find out more about SelectCom's business communications solutions, contact us today.