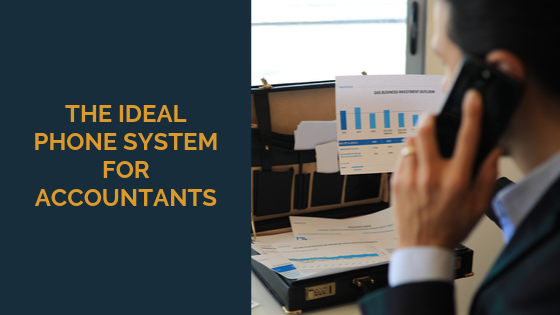 Maintaining client trust is a necessity for a successful accountant. The greatest contributing factor to earn and keep that trust is communication. How you communicate is important, but so is your availability to communicate – being able to take client calls and answer questions even during busy seasons (like tax time). 
The ideal phone system for accountants is a valuable part of your business. It allows you to focus on the part of communication and customer service you know best. A cloud phone system can powerfully work for you by automatically handling various tasks to keep you available, productive, and focused on what's most important in the moment. 
How a Cloud Phone System Works for Accountants
A cloud phone system is a robust tool to take your accounting firm to the next level. Maximize your ability to support each client's evolving needs, offer exceptional customer service, and get things done with this powerful suite of enterprise-grade features.
Integration with your technology ecosystem:

Automatically log client calls and sync them to your CRM (customer relationship management system). 

Mobility:

With mobile solutions for desktop, Android, and iOS, you can work anytime and anywhere. 

SMS Messaging & Queues:

Enjoy the convenience and efficiency of text messaging; send and receive messages from a central number shared with a team who can respond to each client in a timely manner. 

Click-to-Dial:

Save time by clicking a contact to initiate a call instead of having to dial their number manually. Eliminate dialing errors and make calling easy with functionality similar to mobile web browsing. 

Auto-Attendant:

A "virtual receptionist" that automatically screens and directs calls to the appropriate extension. Let the system direct callers to the right department or their own accountant. 

Voicemail-to-Email and Voicemail Transcription:

Stay connected in a way that's most efficient for you. Your voicemail arrives as transcribed text directly to your inbox. 

Call Forwarding & Call-Back Technology:

Eliminate hold wait times for callers. Never miss an important call.

Conference Calling:

Support a team of accountants working remotely and conveniently connect with anyone from anywhere.  

Cloud Fax:

Send and receive sensitive financial documents securely and manage your files efficiently.
There are many more features of a hosted phone system that will benefit your accounting firm. 
Scale Your Accounting Firm Simply & Affordably
As your accounting firm offers exceptional customer service and establishes trust with so many loyal clients, your business will grow. The ideal phone system will simplify the scaling process. 
Setting up a cloud phone system is quick and easy. Users simply plug in their new phone and use it instantly. As accountants and support staff are added to your firm, no new phone lines or extensions are required. 
Scaling a business can be costly, but a cloud phone system's affordability will save you costs. You can have superior features and functionality at a fraction of the cost of a premises-based system. An added advantage is the 24/7 technical support included in the cost of your phone plan. 
Support for Accounting Firm Success
Choose your phone system with security in mind. Support your efforts to build and maintain trust using a cloud phone system hosted on a reliable, private, and secure network. A SelectCom phone system uses industry-standard security practices and protects your data. 
Provide professional service with every client interaction. Equip your accounting firm with a phone system to support your success. Contact a SelectCom specialist today.