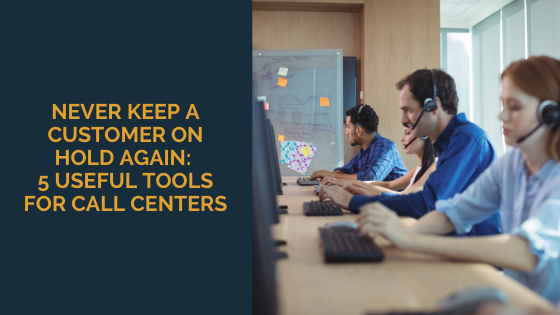 After nearly a year of work-from-home and lockdowns, customers expect more from businesses, including call centers.
59% of customers say they have higher expectations for customer support than they had in 2019. With common issues such as frustrating and long hold times continuing to be a regular occurrence, it's clear that businesses need to step up their game.
But what can you do when it's not possible to hire new employees for your business? Or to call in IT and upgrade your in-house phone system? You need to improve your service quality, but how?
In this post we'll talk about some of the most useful tools for call centers – inexpensive ones that won't cost large sums or take weeks to install. 
These tools are so effective, you'll notice massive differences overnight. From eliminating the need for hold times entirely, to automatically redirecting calls, your customer experience will be leagues ahead of where it was.
Eliminate Common Customer Issues
The kind of improvement that separates one business from the rest requires fine-tuning and eliminating inconveniences that customers assume are unavoidable. 
If you can offer a smoother, more pleasant experience than the competition, why wouldn't a client choose you?
Long Hold Times
People don't like to wait for things. Being stuck on hold and hearing the same mind-numbing music on loop makes waiting unbearable for most people. 
A couple of features deal with the hold problem effectively, so every caller gets noticed. Round Robin ensures all of your team members are engaged with customers. This cuts hold times down and, coupled with Call Queues, hold times will be even lower. 
Low Retention
While short hold times are great, keeping people on the line always comes with a risk of them hanging up out of frustration, boredom, or even an accidental button press. Fortunately, there's a better way to deal with waiting customers. 
The Callback feature eliminates the need to stay on hold. This tool improves your customers' experience and makes your business stand out from the competition. More people will notice you, and your current clients will keep coming back.
Busy Line
Perhaps even worse than waiting on hold is not having your call answered at all. Auto-Attendant eliminates that issue entirely.
Virtual Call Center Tools for Enhanced Customer Experience
These are the top 5 useful tools for call centers. While there are plenty more, these will make the biggest impact on your customer experience.
1. Callback
A simple feature, Callback eliminates the biggest source of frustration for customers: the dreaded hold time. Callback prompts incoming callers to leave their number in your system and receive a return call once an agent is free. 
With this feature active, your client will be free to go about their day as they wait for a callback rather than being tethered to their phone for the entire hold duration. This makes for a vastly improved customer experience.
2. Call Queue
If your hold times are fairly low or you simply have numerous incoming calls, Call Queue is a valuable feature. It places all incoming calls that meet a busy line into a queue. 
Your team can see all the callers and their numbers at a glance, with their hold duration included, allowing them to prioritize the longest-held calls. Callers are informed of their placement in the queue automatically, giving them an idea of how long they'll have to wait. 
3. Round Robin
This feature does 2 things: 
It gets as many calls answered as possible, and 

It ensures that it spreads the workload evenly amongst your team. This is especially useful for remote teams, where it's easier to slack off. 
The Round Robin feature redirects incoming calls to ring the least active agent available. The most active agent will only get a call when their coworkers are all busy with their own calls. 
4. Auto-Attendant
Auto-Attendant is an amazing time-saver and adds a feeling of professionalism to your business' phone presence. 
When someone calls, they're met with a pre-recorded greeting, followed by a prompt to press the key corresponding to their desired branch. ("For sales, press 1". For technical support, press 2" etc.) You can eliminate the need for a receptionist entirely.
Customizability is where Auto-Attendant shines. From an online portal, you can record greetings, set them or save them for later, and customize the in-call controls (which buttons to press for extensions, and so on). 
There's no need to hire IT or call support. You can customize Auto-Attendant with even the most limited technological literacy. There's no learning curve.
For more info on this useful feature, please read: The Virtual Receptionist: 9 Ways Auto-Attendant Can Enhance Your Business
5. Analytics
Analytics won't directly affect your callers, but it will arm you with the information you need to enhance your customer experience. 
Display everything you need to know about your call performance, engagement times, and more in colourful, easy-to-read graphs and tables. 
With everything available on one screen, you can quickly track your employees' performance, address customer service issues, and much more. 
Other Applications For Virtual Call Center Tools
Beyond fixing problems, you can employ your tools to be proactive and get ahead of the pack.
Training
Analytics can track individual employee performance. Coupled with call recordings, your employees will generate training materials inadvertently as they work. You'll now have the insight to help you repair collective weak points and capitalize on your team's individual strengths.
Advertising
Auto-Attendants have a customizable greeting message that can be changed to whatever you want – so why not get some free advertising out of it? Add a quick blurb about a current offer, a seasonal event, or anything that might pique a caller's interest.
Spreading Employee Workload Evenly
In a remote work environment, a lack of accountability can lead to drops in productivity among your employees. When there's nobody around to see you, it's a lot easier to check social media for 2 minutes in between calls, leaving the work to someone else for those 2 minutes. 
Round Robin makes sure the workload is spread evenly amongst each employee by automatically detecting who's been most idle and directing the call to them first. This is a particularly useful tool during remote work, but it's just as effective in the office as well.
The Ultimate Call Center Solution
Your call center will become more productive with these useful tools. SelectCom's call center solutions include dynamic wallboards, too. 
Boost your call center productivity and enhance customer experience. Contact a SelectCom associate for more about these useful call center tools.