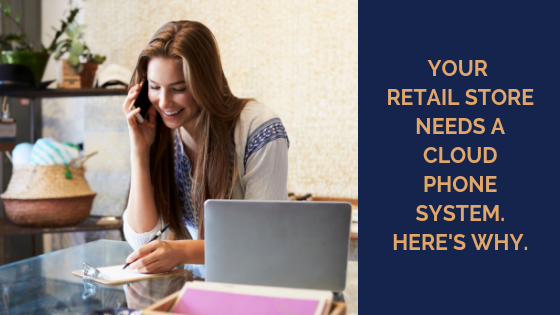 Reducing expenses and maintaining an effective, reliable workforce are ongoing challenges for any retail store. A cloud phone system can help you accomplish both of these goals, giving your business a competitive advantage. 
The advanced technology of a cloud phone system makes it an obvious choice for many retail businesses. It's a perfect combination of cost-effectiveness and rich features. 
Here's why it's time for your retail business to switch from a conventional landline phone system to a cloud phone system. 
1. Reduce Operating Expenses
The entire cloud phone system is managed off-site by your service provider, so there's no installation fees or maintenance fees. Set-up is quick and easy and doesn't require costly hardware.
Long distance calling is included in your service plan, saving you more fees. Retailers with multiple stores benefit from free calls between users, regardless of geographical location. 
2. Value & Customer Acquisition
Does your retail business use CRM software? This is usually a big investment for retailers in an effort to maximize customer value and optimize customer acquisition. It's about capturing data to learn what your customers want and how best to provide it for them. 
A cloud phone system can integrate with your CRM system – increasing your investment. Your workforce gets immediate access to a customer's data based entirely on their incoming phone number. Customizing your service to best fit the needs of each individual customer is possible when you can see a complete purchase history and other helpful details. This increases customer loyalty and adds value to what your store can offer. 
3. Effective Workforce Management & Optimization
Comprehensive calling features and real-time reporting are valuable advantages of a cloud phone system. You're able to monitor and track data such as:
call volumes, 

call duration, 

first-time resolution, 

and more. 
Data like this enables you to make informed decisions about your staff and helps you to effectively manage your workforce performance. 
4. Expansion Without Extra Expense
It's tough to keep up with phone calls in a retail store. Prioritizing service to in-person customers often leaves phone calls unanswered or forces callers to wait on hold. This causes customer dissatisfaction and can even lead to losing a sale. 
Hiring more staff is not the only solution. Expanding your workforce to accommodate increasing demands increases your expenses. 
An alternative is a cloud phone system with automated features to help. For example:
Auto Attendant

: a virtual assistant to answer and direct calls

Call-Back

: an option for callers to receive a call back instead of waiting on hold

Simultaneous Ring/Line Hunting

: callers dial one number and the call is answered by the first available line or directed to an available line (at any location)
These save time while continuing to effectively and efficiently help your customers and staff.
Case Study – Flowers By The Dozen
Flowers By The Dozen is a floral shop in Toronto. Tremendous growth in their business led them to expand into multiple locations and build a significant online presence. They struggled to manage high call volumes during peak periods, negatively impacting their customer relationship management. 
Switching to a cloud phone system from an analog system improved their customer relationships in several ways:
Seamless Connectivity:

All staff were connected on the same platform regardless of their location. Balancing calls between locations resulted in more calls being answered in a timely manner. 

Mobility:

The mobility of the cloud phone system gave employees freedom to take and make calls from anywhere with an internet connection. This made the store always available by phone, even during farmer's market events. 

Increased Call Handling:

Multiple features increased call handling ability and enabled them to respond more quickly to order requests.

Cost Savings:

The cloud phone system eliminated the need to buy, maintain, and update costly traditional phone system hardware, saving the business a significant amount of time and money. 
For an in-depth look at the Flowers By The Dozen experience, download the Case Study here. 
Your Retail Store Needs A Cloud Phone System
Do you want to:
reduce operating expenses?

increase the value of your customer service?

optimize your workforce?
If you answered "yes" to any of those questions, it's time to get a cloud phone system for your retail store. At SelectCom, we'll help you find the phone solution that's best for your business. Contact us to get started.