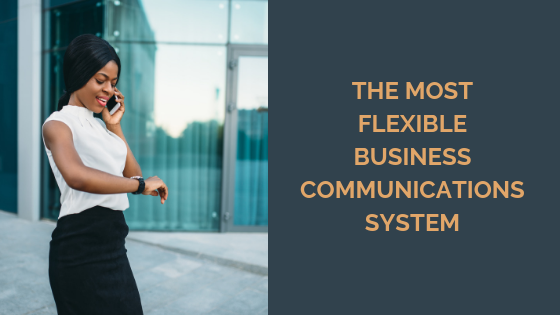 In this age of unprecedented innovation, keeping up requires the ability to adapt quickly. Fortunately, new technologies make it possible for businesses to change with the times. Key to business success is flexibility. 
Business communications have been a tricky aspect of business adaptation in the past. Cumbersome and costly systems seemed permanent, not portable. Change was disruptive. 
With a hosted phone system, a responsive, adaptable, and flexible communications system is possible. 
Simplicity & Portability 
A hosted phone system is based online. To connect, simply plug your phone into an open jack on your network. This makes moving a phone (or an entire office full of phones) easy. In this way, your office phones are portable, able to move with you wherever you need to work.
Working remotely is simple, too. A hosted phone system is based online, so a separate handset isn't required. Your phone's software application allows users to make and receive calls from a computer or mobile device. With the software installed on a mobile phone, it becomes an extension of a user's desk phone, allowing the user to stay in communication from anywhere.
Flexible Costs
Cost options are another advantage of a hosted phone system. 4 benefits of the pricing flexibility include: 
1. Customizable Plans
Service plans can be adjusted to meet the needs of your business – no matter what size you are today, or how big you grow in the future. Add features as you go to fit your changing and growing needs. It's simple and allows you to be more flexible in your company budget.
2. Unlimited Long Distance
Unlimited long-distance calling saves you money.
3. Reduced Hardware Costs
Calling applications mean you don't have to buy handsets for your entire staff. The same services you receive on your handsets are also available on your computers and mobile devices.
4. Enterprise Features
Multiple enterprise features included in your service plan can save you other ongoing business expenses:
No more landline for your fax machine. Use cloud-faxing. 

No more annoying wait times for customers with call-forwarding and the call-back feature. You never lose an opportunity to make a sale or serve your clients because of a busy phone line.

Auto-Attendant serves as a virtual receptionist, screening and routing calls to the appropriate extension.

Never check your voicemail again. Voicemail-to-text and voicemail-to-email let you stay up-to-date on your messages no matter where you are.

No added IT support costs and no need to maintain hardware or software, saving you countless dollars.
Take advantage of the flexibility of a Selectcom phone solution so your business can adapt with today's evolving marketplace.