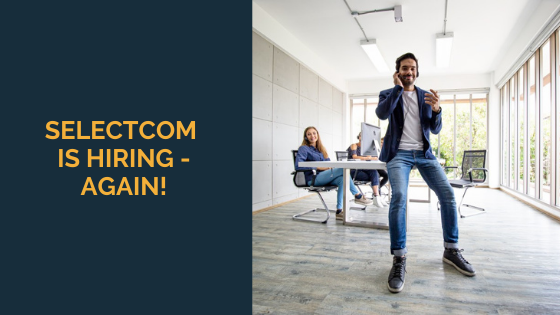 SelectCom is growing! We're looking to add a new Account Executive and another VoIP Deployment Specialist to our team. Are you the perfect new SelectCom team member?
Account Executive Position Available
Our new Account Executive will be a tenacious hunter, tasked with growing our client portfolio using a consultative selling approach. 
This position offers the opportunity to be a part of our brand new Vancouver Growth Team based out of WeWork Main Street Office. It's the best of both worlds – an energized start-up environment with the support and stability of a well-established organization. 
Responsibilities in this role include:
Prospecting and lead generation

Manage and nurture inbound leads

Develop and maintain an individual sales pipeline

Hit monthly, quarterly, and annual sales quota

Conduct discovery meetings and present solution demos

Prepare and deliver quotes and sales orders
The value of this opportunity includes a competitive salary + commission + structured bonuses, plus full medical and dental benefits. 
For more details about this position or to apply, see our Indeed Account Executive posting.
VoIP Deployment Specialist
Our new VoIP Deployment Specialist will be a business professional with some technical knowledge and some VoIP experience who enjoys working with people in a troubleshooting and supporting role. 
This Calgary-based entry- to mid-level position is a full-time, Monday to Friday, daytime role with occasional on-call emergency after-hours coverage. 
Responsibilities in this role include:
Remotely setting up VoIP PBX and cloud telecom solutions and services for our business clients and partners across Canada

Installing IP phones and diagnosing trouble with routers, PoE network switches, software, and existing systems

Providing end-user training
The value of this opportunity includes a salary commensurate with past experience and medical/dental benefits. 
For more details about this position or to apply, see our Indeed VoIP Deployment Specialist posting.
About SelectCom
Our company was founded on the simple premise of making it easier for businesses to communicate. Our story begins in the early 90s when the Canadian telecom market was just beginning to open up to competition.
Since that time, we've been focused on adding service & innovation that improves business communication. Over the last 25 years, we've seen a lot of changes, and have worked tirelessly to always be on the leading edge of innovation. Today we offer a full suite of communication products that are custom built for modern business needs.
We have offices in Ottawa, Toronto, Montreal, Calgary, and Vancouver yet manage to maintain a small team that feels like family. We've received the Telecom Employer Choice Award 2 years in a row. With a friendly atmosphere, flexible work arrangements, room for growth, and competitive compensation, our company is an excellent opportunity for motivated individuals.
If you'd like to be a part of Canada's leading innovative cloud telecom technology solution provider, get in touch with us today.