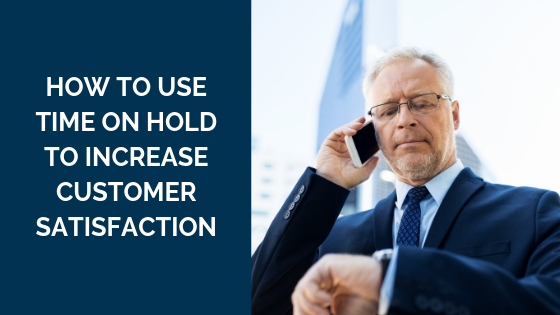 Nobody likes waiting on hold. So putting a caller on hold is not the best strategy for excellent customer service. There is a way to use hold time to your advantage to increase customer satisfaction.
Businesses try to get around the issue of hold times in various ways with limited results. 
Methods to Improve Hold Time
Overused, insincere words: "Your call is valued" was deemed the most annoying thing to hear while waiting on hold in a study by Charlotte England of Independent. 
Honesty: 10% of people surveyed said the most annoying thing to hear while on hold is "all operators are busy" even though it's an honest admission.
Redirection: Directing a caller to your company's website is worse than being told they're valuable, according to 28% of those surveyed.
Music: Entertaining callers on hold with music isn't a bad idea, but callers often dislike the style of music being played. (England's study showed most preferred classical music over other genres.)
The Best Way to Make Callers Feel Valued
Valuing customers requires showing them they matter most. Actions speak louder than words (or music). Telling a customer they matter doesn't mean much if you don't show it. 
The best way to make callers feel valued is to answer their call. 
A Selectcom cloud phone system can minimize wait times and maximize your ability to manage calls efficiently. The best Hold Music available and features like Messages on Hold can keep your customer on the line. 
Choosing Your Hold Music
The hold music your customers hear communicates something about your company. Callers will associate something between your music and your business. 
Choose hold music that reflects your brand. A funeral home probably shouldn't have peppy rock music to soothe waiting callers. Businesses dealing with high stress situations (like insurance companies) should probably choose calming hold music.
To decide on the most appropriate hold music, think about the kind of calls you receive, the customers on the other end of the line, and the situations your phone calls pertain to. Also consider your branding and how you want your business presented. Then select music that seems most appropriate. 
Customizing Messages On Hold
The Messages on Hold feature goes far beyond simply playing music. With the Selectcom phone system, you can customize a recorded message for callers on hold. We'll even record your messages for you. 
This powerful tool has limitless uses. For example:
Your

sales line

can play a message about a new exciting product or special.

Your

main line

can remind callers of your location and hours of operation – and if that's the only information they need, that's one less call for you to handle. 

Prepare callers

for the upcoming conversation with something like, "Please have your account number ready."
These might seem like small things, but they can produce big results. One benefit is reducing overall call length, allowing you to take more calls. The ability to handle more calls means fewer callers will need to be put on hold. 
The Easy Way to Improve Hold Time
With a Selectom cloud phone solution, each user on your system can choose their own style of hold music and their own customized on-hold message. 
Take advantage of the Hold Music and Message on Hold features. Make waiting more bearable for your callers.
If you want to make the hold queue less frustrating for your customers, or if you'd like to find out more about how a Selectcom phone system can increase your customer satisfaction, contact us today!