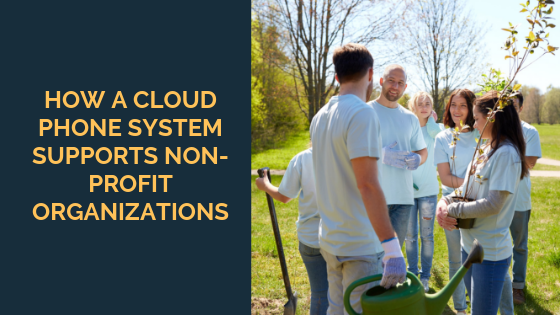 As a non-profit organization, minimizing costs and empowering staff to work effectively is an ongoing challenge. You need the right tools to increase efficiency and maintain flexibility. Have you considered your phone system? 
A cloud phone system benefits your non-profit in many ways:
Save costs

Accommodate staff needs and changes easily

Keep your organization connected all the time from multiple locations (even remotely)

Increase productivity through more efficient communication and procedures
The advanced technology of a cloud phone system offers the simplicity and flexibility necessary for a non-profit organization. 
Save Costs
Because it's internet-based, a cloud phone system doesn't require the installation of expensive equipment. It costs very little to start up a cloud phone system and is equally painless to make changes or add lines and extensions. The only requirements are:
A high speed internet connection via WiFi modem or wireless router

Power outlets, and

Hosted phones.
Maintenance, software upgrades, and 24/7 technical support are included in your plan, saving you IT expenses. With your cloud phone service plan, you pay only for what you need. 
To save you even more, long distance calling is free across Canada – and even the US on some plans. 
Stay Flexible & Scale Your Organization
The flexibility of a cloud phone system makes it easier to grow your organization or make changes. Changing your service plan is simple. You can add, change and remove users directly from within your own web portal. Moving lines or extensions is almost effortless – simply plug in the user's phone at the new location. 
For a closer look at phone system costs, see Comparing Costs & Benefits of Hosted vs. On-Premise Phone Systems.
Staff Empowerment
With a cloud phone system, each user has control over their settings through their own easy-to-use web portal. In the User Portal, each user in your organization can:
Manage voicemail messages

Manage contacts

Set up call forwarding

Choose personal music on hold

And access many more useful features
The User Portal can be accessed from anywhere with an internet connection. 
Efficient Management
The cloud phone system is also a valuable management tool. It gives you the ability to completely administer your organization through the Management Portal. Some of the features of this portal include:
Manage day-to-day call detail 

Add or change users 

Set up audio conferencing

Make new auto attendant recordings

Adjust holiday schedules
Support Remote Work
It takes dedicated staff and generous volunteers to maintain a successful non-profit organization. Work happens at all hours and from many locations. Whether a worker is in your office or in the field, a cloud phone system keeps them connected. Any mobile device can become an extension of your office line. This keeps your organization available no matter what. 
Remote work is simplified with features like voicemail-to-email, Find Me Follow Me, and answering rules. 
Multi-Location Connection 
Multi-office non-profits benefit from the connectivity provided by a cloud phone system. Keeping every location on the same network makes it easy and affordable. Employees at any location can connect with employees at any other location simply by dialing the extension number of the person they want to reach. 
Call queues and Auto Attendant (a virtual receptionist) ensure every single call is answered and directed to the appropriate extension regardless of location. 
Support Your Non-Profit Success
The resourcefulness required for running a successful non-profit organization is tremendous. Every penny, every second, and every inch of office space counts. 
At SelectCom, we're committed to supporting your efforts! Contact us today to find out more about how our cloud phone system can benefit your non-profit.