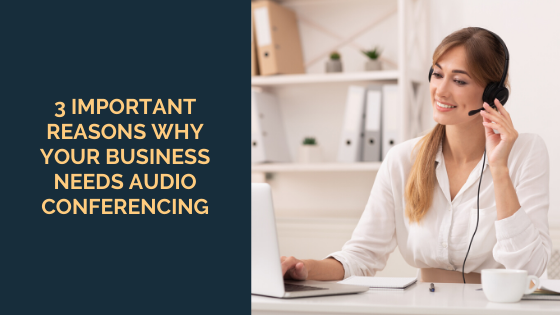 Business success is reliant on effective communication. You need the right tools to support your communication efforts. 
Advances in business technology – such as video conferencing, screen sharing, and whiteboarding – have greatly improved our ability to communicate. But audio conferencing is not to be overlooked. 
Here are 3 important reasons why your business needs audio conferencing. 
1. Collaboration
When your team works remotely, the default method of communication tends to be email. But hundreds of emails are not an effective substitute for productive team meetings. 
Increase the productivity of your remote teams with a quick, easy-to-use audio conferencing solution. This becomes a professional virtual meeting space. 
Host multiple guests to help you reach out to various team members all at once. Everyone can join from anywhere on any device, keeping your collaboration simple. 
2. Lower Cost
For small businesses, in particular, lower cost options are always welcome. Audio conferencing provides the benefits of virtual collaboration without breaking your budget. It costs less than video conferencing.
3. Manage Bandwidth
Video conferencing is great, but it requires a lot of bandwidth. During the current global crisis, bandwidth is sometimes constrained. Audio conferencing uses less bandwidth, allowing you to stay connected even during high-traffic times. 
5 Best Practices for Effective Audio Conferencing
A great audio conferencing system is only part of the solution. Your business must use it effectively to enjoy all the benefits. 
Here are 5 best practices for effective audio conferencing:
1. Keep it simple.
Joining an audio conference should be simple. This saves time for everyone and avoids the frustration of learning yet another complex system. 
If dial-in numbers are necessary for joining the call, include the necessary information in the meeting invite so participants have ready access. This also makes it easier for users to rejoin the meeting if the call is dropped. 
For international attendees, give them access to local dial-in numbers to avoid high international calling fees.
2. Be on time.
This is true for any meeting, but with audio conferencing, it's best to dial in a few minutes ahead of schedule so you don't keep others waiting while you join.
3. Choose your location and device carefully.
Background noise can be distracting and hinder the productivity of the call for everyone. 
If you're at the office

, join the meeting from a private room.

If you're in a conference room

, be sure your equipment is appropriate for the size of the room and the number of participants. Position microphones near the primary talkers and have a microphone for every few people. Be mindful of having noise generators like projector fans or a potato chip bag near the microphones. 

If you're in a public place

, choose a quiet spot without distraction or announcements. 

If you're at home

, turn off background music or the TV. Keep pets out of the room and be mindful of noise outside your open window (like a lawn mower).  
If you're using a mobile phone, be sure you have a strong signal to avoid audio break-ups. 
4. Use a headset instead of a speakerphone.
A hands-free option is valuable during a conference call. It keeps you free to type notes or take quick action steps during the call. But using a speakerphone isn't the best choice.
Even a high-quality speakerphone can project a sense of being distant which isn't the impression you want to give to colleagues or clients. White noise, pen taps, turning pages, and keystrokes can clutter up the audio and be distracting to call participants. 
Use a good quality headset instead. This gives you hands-free convenience without the impression of distance or the distracting background noise. A headset is especially useful if you're on the go. You'll be less likely to accidentally hang up or unmute your line while carrying your travel mug and briefcase.
5. Have only one person talking at a time.
Take advantage of the mute feature. When you're primarily listening, mute yourself to reduce unnecessary sound on the call for other listeners. 
Don't engage in side conversations. If more than one person is talking at a time, it can be challenging for remote participants to hear the primary speaker clearly.
The Best Audio Conferencing System for Your Business
Meeting technology should not get in the way of a productive meeting. Choose the best audio conferencing system for your business. 
SelectCom's customizable audio conferencing solution is easy to start, easy to share, and easy to use. Our audio bridges can be set up in as little as a few hours and provide crystal-clear sound quality. 
Make your remote teams more productive by giving them each an Instant Audio conference bridge, including the following features:
Low per usage rates instead of a fee for every user

Easier on at-home bandwidth

Up to 125 participants

Easy, one-click call recording

No software downloads

Available on any device

Operator assistance available, if required
Get your business set up with audio conferencing today. Contact SelectCom to get started.